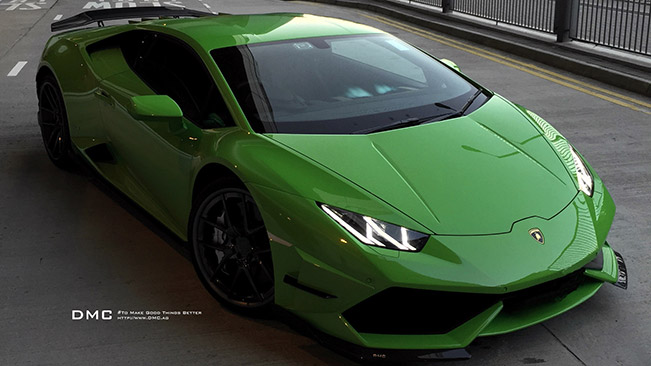 When it comes to Lamborghinis, DMC has been able to establish itself on the list of tuners that know how to tame the Bull from St'Agata. So it comes to no surprise that they are THE FIRST, to present a complete body kit, wheels and performance package for the brand new Huracan.
On the visible side, DMC created a styling kit that stays in line with the original design: A unique front fascia features 2 spoiler lips and stunning wide body extentions with aero-swords. The components fit onto the stock-bumper, installation is very swift.
The new side skirt diffusers aim to improve the overall aerodynamics, which are also supported by the new rear rear diffusor. The highlight of the package is the new rear wing spoiler: It sits on a re-engineered deck lid, so that owners don't need to drill holes (!). The wing itself can be adjusted to three different angles, giving the driver a variety of custom settings from hard to soft. Finally, the bonnet diffusers aim to decrease wind fluctuations and are set to become the character item of the kit with their reptile look.
All items above naturally made of pure carbon fiber, and can be installed without visibly damaging the Huracan. They either exchange for the OEM parts, or conveniently add-on, which guarantees that the car can be brought back to its original state of art, at any time.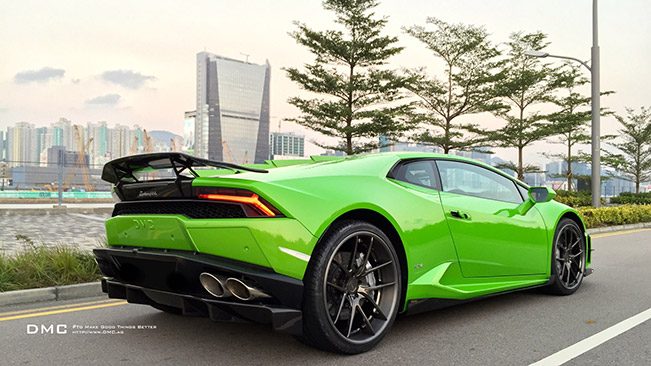 Performance wise, DMC has a sporty modification in petto: Using optimized engine electronics, an electronic load pressure control system and a brand new Exhaust system, the engineers were able to raise the power to 630 PS.
To cope for the a stronger performance, a new set of forged alloy wheels keeps the beast secure on the roads: The DMC rims come in a  20″/21″ setup, and are the widest sets in the market so far. The front has got a technical set up of 20×8,5J wile the rear then showcases specs of 21x12J. Enthusiasts may foresee that DMC will be using a 245/30r20 / 325/25r21 tyre combination but a softer P-Zero application is possible as well.
The package is finalised with exclusive interior refinements using italian fine leathers and carbon finer. Plenty of buttons and trims are available as a small package, a redesigned steering wheel adds on to complete a medium package or the whole interior can be redone for the VIP package. Small and Medium Projects can be done remotely, but the car needs to be shipped to Germany if a whole interior make-over is requested.
Source: DMC