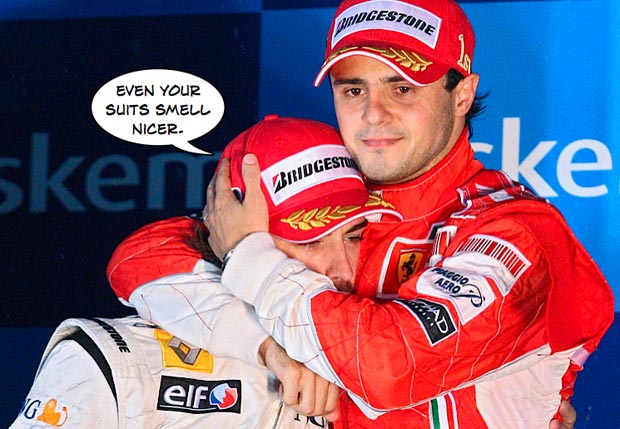 In a deal that seems to have been years in the making, Ferrari has finally made an official announcement: Fernando Alonso will be driving for the Prancing Horse in 2010. Rumors of Alonso going to the team from Maranello started back during the Spaniard's first stint with Renault, but circumstances with driver lineups didn't allow for it. Instead, Alonso went to McLaren for one very unhappy season before returning to France.
Since then, Alonso's fortunes have been mixed and stories of the Italian job have persisted. According to official statements from Ferrari today, an agreement had been reached earlier in the summer for Alonso to move to the Italian team in 2011. However, recent circumstances with the so-called Crashgate fiasco and the departure of team boss Flavio Briatore and sponsor ING have caused the date to be moved ahead a year. Alonso's Ferrari deal runs for three years.
As expected, current driver Kimi Raikkonen will be departing a year before the end of his contract, although his future remains uncertain. Recent rumors have had him returning to McLaren, although earlier this year it was thought he might switch to the World Rally Championship.