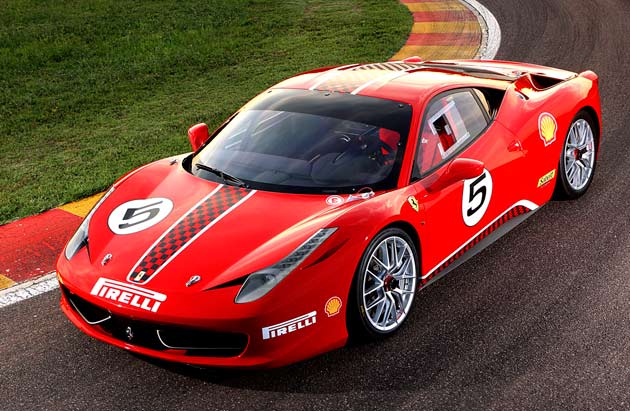 Ferrari 458 Italia Challenge

The 458 Italia, like any other roadgoing Ferrari, draws its inspiration and development from the Scuderia's considerable racing prowess. Turning the 458 back into a racing car, then, is an extra special feat – one to which Maranello is well accustomed, from the Challenge versions of the 348, 355, 360 and 430 that came before. The new race car will run alongside the F430 Challenge as part of the Ferrari Challenge Trofeo next year, the latter of which is also getting a new Asia-Pacific series for 2011 as well.
While the Challenge car maintains the production 458's 5.5-liter V8 drivetrain, it has gone on a substantial diet that includes thinner body panels comprised of Lexan and carbon-fiber. Ride height has been dropped for circuit duty by 30mm, and the Challenge also gets its own suspension bits and setup with stiffer springs, dampers and aluminum bushings. Center-lock 19-inch racing wheels are banded in slick Pirelli tires, and the whole gorgeous Italian parade reins to a halt with Brembo CCM2 carbon-ceramic brakes from the 599XX. In other big news, the 458 Challenge receives F1-Trac electronics that makes use of specific programs that help set the car up for both wet and dry conditions.
All of this information arrives on the heels of the initial spy shots and the video that followed, with Ferrari having issued an official statement (available after the jump) and the image above. In addition, a small batch of photos have crept their way onto the Teamspeed forums, apparently from the vehicle's official unveiling in Maranello. You can check them out at the gallery below.