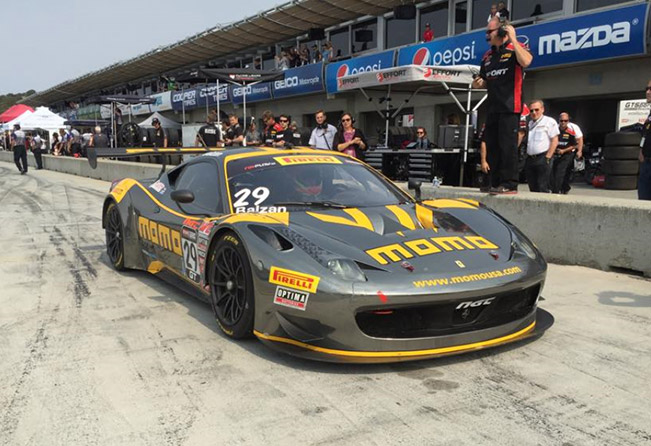 Extraordinary one-two finish for Ferrari under the NGT Motosport banner in Laguna Seca, the closing event of the Pirelli World Challenge. However, the one-two finish of the 458 Italia GT3 is counterbalanced by Olivier Beretta's loss of the title, just when the championship seemed to be around the corner. The title went instead to Cadillac's standard-bearer Johnny O'Connell, who had an excellent second half of the season.
Olivier irresistible.
At the start, the two Ferraris of the NGT Motorsport team held on to the two top positions with very little effort. But everyone's eyes were on the cars in the rear. Olivier Beretta, at the wheel of the 458 Italia number 61 of the R. Ferri team, started only in 12th place. O'Connell took up third position as Beretta began an incredible comeback. The Monaco driver caught up on everyone, overtaking one car after another to finally come into the wake of the championship's leader.
The incidents.
Beretta needed to gain 26 points on O'Connell in order to take the championship; therefore, it was imperative that he overtake his rival. The Monaco driver gave it everything and ended up hitting his rival's Cadillac at the Corkscrew sending both cars into a spin. The Ferrari number 61 managed to re-start without too many problems, keeping third position, while O'Connell lost more time. Shortly after, the Ferrari driver received a drive-through for having caused an avoidable contact. Olivier came out of the box in seventh place, with O'Connell 12th: the feat was still possible. However, five minutes from the end, on the last turn, he made contact with the Acura of Peter Cunningham and was forced to pull out. The dream of the title went to pieces and O'Connell salvaged a championship in which even he had stopped believing. At the finish line, Balzan was ahead of Pier Guidi by 2"76 and of Ryan Dalziel (Porsche) by 26"819.
Source: Ferrari