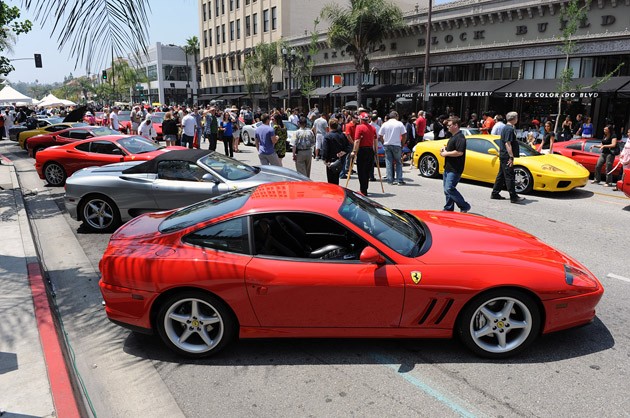 2010 Ferrari Concorso in Pasadena
Colorado Blvd in Pasadena, CA is most known for the annual Rose Parade on January 1st, with intricate floats and marching bands bringing in the new year. The famous street hosted a different kind of celebration this past weekend, though, with the Ferrari Club of American putting on a Ferrari Concorso on three blocks of the downtown portion of the city.
More than 100 Ferraris were on display, both current and vintage models. All four of the modern Ferrari supercars were present – 288 GTO, F40, F50 and Enzo – as well as the latest models like the California. There was even a Schumacher-driven 2001 Formula 1 car. Most of our time, however, was spent in the area of judged cars filled with pre-1999 models. Noted collector Bruce Meyer was kind enough to bring out his famous1956 625 TR, the Petersen Museum showed off a rare Vignale 225 Sport Spyder, and there was a multitude of gorgeous 275 GTBs and 250 series cars including a 250 GT SWB and not one but two 250 GT TdFs. You can see all of our photos from the event in the high-res gallery below.