Filed under: Motorsports, Ferrari, Racing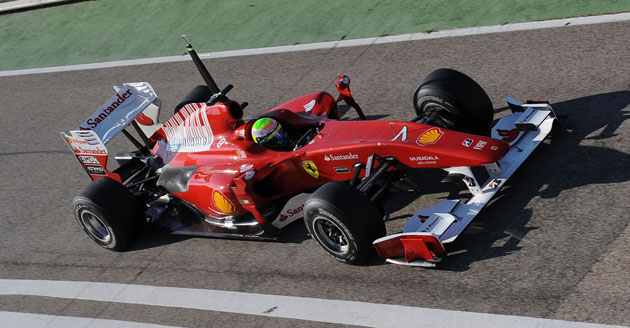 Felipe Massa and Fernando Alonso lap Valencia in the 2010 Scuderia Ferrari F10 – Click above for high-res image gallery
We know, we know. The pace set on track tests doesn't necessarily indicate how a given team, car or driver will perform in an actual race, let alone across a whole season. But it's hard not to read too much into it when we've been waiting for a sign since the end of last season, when the winningest team in all of motorsports – which has been working on this car since the middle of a dismal last season – with its veteran driver recovered from injury, and with a two-time World Champion taking the helm for the first time, when all these elements come together and the team absolutely dominates.
Half of the F1 teams that'll be competing for honors this season descended on Valencia for three days of official testing. And when all was said and done, Ferrari had dominated the time sheets on each of the three days. The first two days saw Felipe Massa run the new car, setting the fastest times on both days. Then Alonso took his turn on Day 3, beating Massa's time and everyone else's in the process – including returning seven-time World Champion Michael Schumacher in the new Mercedes and reigning champion Jenson Button in the new McLaren.
For his part, Alonso was quick to quell speculation. Reliability, fuel loads, yadda yadda yadda. But when this is the first and only indication we have of how the season is shaping up, we can't help but sit back and stroke our five o'clock shadows in contemplation. We invite you to do the same while viewing the mega gallery of on-track images below.
[Source: Ferrari]
Pics Aplenty: Alonso, Massa dominate Valencia testing in new Ferrari F10 originally appeared on Ferrari News on Thu, 04 Feb 2010 13:34:00 EST. Please see our terms for use of feeds.