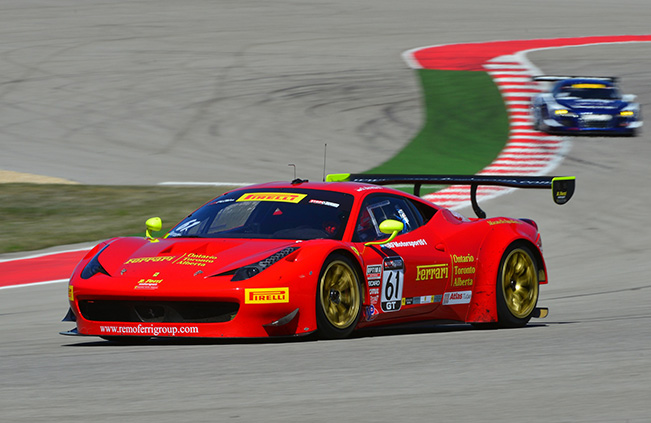 The Pirelli World Challenge concludes this weekend at Laguna Seca, with the title fight still wide open in the main category, the GT class. The favourites are America's championship leader and Cadillac driver Johnny O'Connell, and Monte Carlo's Olivier Beretta, at the wheel of a Ferrari for R. Ferri Motorsport.
GT. The main class will see four Ferraris on track, with the other 458 Italia GT3 drivers seeking to work as a team in support of Beretta. In fact, besides car no. 61 R. Ferri, as always there will be the no. 64 Scuderia Corsa driven by Duncan Ende, while the two NGT Motorsport cars will be in the GT race rather than their usual GTA class, with brothers Eduardo and Henrique Cisneros at the wheel. Alessandro Balzan will be in no. 29, while Alessandro Pier Guidi will drive no. 30. Beretta needs to stay in first, while the other Ferrari drivers will try to put themselves between car no. 61 and O'Connell's Cadillac no. 3.
GTA. The GTA title has already gone to Frankie Montecalvo (Mercedes) who overcame the resistance of the absent Henrique Cisneros. There will still be two drivers representing Maranello: Martin Fuentes, who has had an excellent season in car no. 7 Scuderia Corsa, and Mike Hedlund, in car no. 65 for the same team.
Source: Ferrari