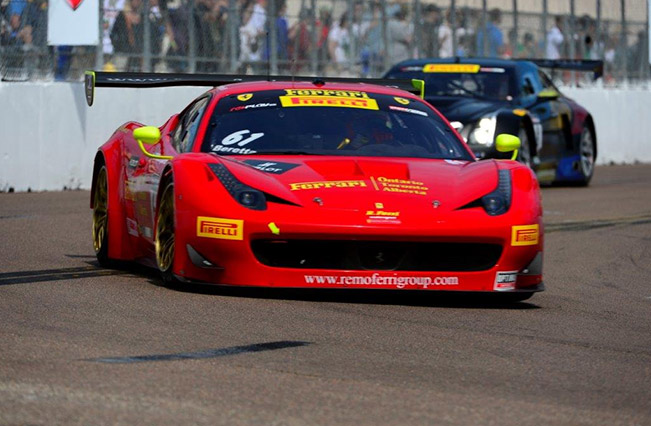 The Pirelli World Challenge head west for their second straight street race, at the iconic 11-turn 1.968 mile street course in downtown Long Beach. This year marks the tenth time Pirelli World Challenge has raced at Long Beach, dating to its first appearance in 2006. A full field of 40 cars will be on hand, seeking to add their name to the illustrious list of winners at North America's most legendary street race circuit. All past winners have started in the top five overall, and three-time defending series champion Johnny O'Connell returns to Long Beach as defending race winner.
GT. Olivier Beretta, of Montecarlo, in the No. 61 Ferrari by R. Ferri Motorsport surged into the GT class points lead on the strength of his second win in four races in Round 4 at St. Petersburg, holding a two-point lead over Ryan Dalziel which has three runner-up finishes and a fourth place finish in four races in 2015. Both Beretta and Dalziel have past Long Beach experience, but not in Pirelli World Challenge. Beretta has two class wins and Dalziel one class win in other sports car championships. Austrian Kevin Estre enters the weekend third in points in the No. 9 McLaren, 16 behind Beretta. Estre will be making his track debut, and looks to add his second win of the season this weekend. In the GT class there are two more Ferrari drivers, Duncand Ende and Mike Hedlund on the No. 64 and No. 65 Scuderia Corsa 458 Italias.
GTA. Michael Lewis has opened his GTA campaign with three wins and a second in the No. 41 Porsche but Henrique Cisneros will be one to watch this weekend in the No. 30 NGT Motorsport Ferrari 458 Italia GT3. Cisneros was a class winner in another series his last start at Long Beach in 2013, and enters third in GTA points with two third-place finishes in his last three races. Mexican driver Martin Fuentes will look to join the list of GTA podium finishers in the No. 07 Scuderia Corsa Ferrari 458 Italia GT3; he enters the weekend fourth in GTA points. The race starts at 16.30 local time, 1.30 CET.
Source: Ferrari