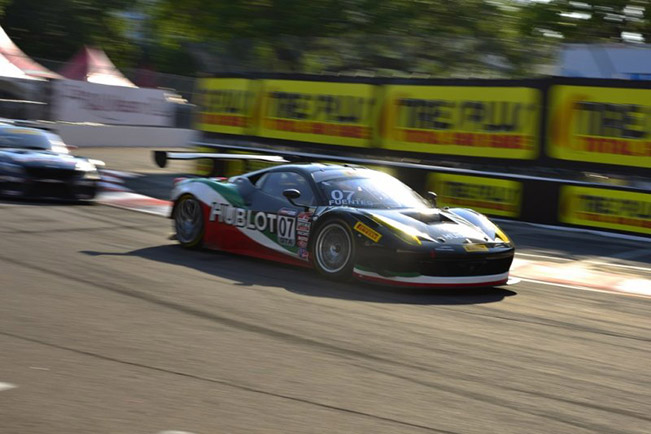 This Saturday and Sunday, the St. Petersburg street circuit, in sunny Florida, plays host to the third and fourth races of the Pirelli World Challenge championship; the eleventh time it has hosted the event, the sixth in a row. The track is just under three kilometres long, but has 14 corners, is rather narrow and overtaking has always proved difficult. Qualifying is therefore particularly important, which can be seen from the fact that seven of the last nine races have been won from pole position. There are five Ferraris entered, with the Prancing Horse marque currently lying third in the constructors' classification.
GT Class. There are three Ferraris in the GT category. Worth keeping an eye on is Olivier Beretta, who won the opening round of the season at the Circuit of the Americas, before finishing eighth in the second race at the wheel of the R. Ferri Motorsport 458 Italia GT3. The Monegasque driver left Austin lying third in the classification, behind Austria's Kevin Estre and the American Ryan Dalziel. There are two more Ferraris in this category, the 64 and 65 cars entered by Scuderia Corse in the hands of American Duncan Ende and Sweden's Mike Hedlund.
GTA class. There are two 458 Italias tackling the GTA category, in which the first round was won by Michael Lewis in a Porsche, who was victorious in both races. Second in the championship is the Venezuelan, Henrique Cisneros, who made it to the podium in Austin in the NGT Motorsport number 30 car, on that occasion finishing ahead of the Mexican Ricardo Perez, who is missing the St. Petersburg weekend and Martin Fuentes in the Scuderia Corsa number 7 machine.
Source: Ferrari