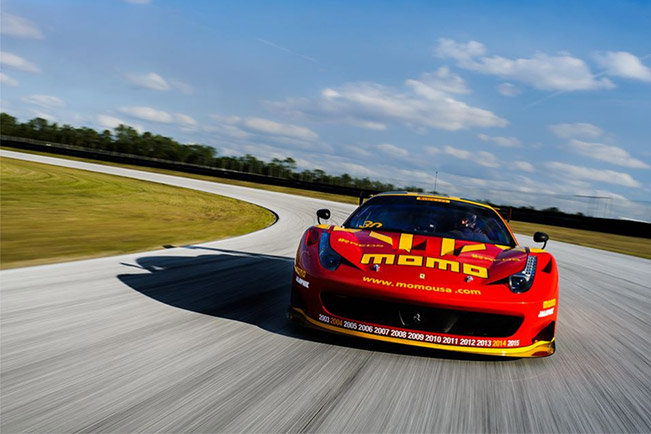 Ferrari's drivers and teams competing in the Pirelli World Challenge leave Lexington and the Mid-Ohio circuit with a record of three podiums and two wide-open championship standings, with Olivier Beretta and Henrique Cisneros still fully in competition.
GT. It was a perfect weekend for Ryan Dalziel in the GT class. The Porsche driver of the Effort Racing team took first place in both races and seized the first place in the championship standing by a whisker from Olivier Beretta, who did well in Race-1 taking the third step in the podium for himself and for the 458 Italia GT3 of the R. Ferry Motorsport team; luck was not on his side on Sunday, when he had to settle for a position just below the podium. Notable in Race-1 was the positive performance of Duncan Ende, who was able to take seventh place with the Ferrari number 64 of the Scuderia Corsa. Dalziel now leads the championship standings, albeit only 14 points ahead of Beretta. The return engagement will take place in two weeks at the Miller Motorsports Park.
 
GTA. In the GTA class, the Ferrari drivers earned two podiums, even though the strongest standard-bearer of the Maranello firm, Henrique Cisneros (NGT Motorsports), had a mixed weekend. His main rival, Frank Montecalvo (Mercedes), won Saturday's race, but Cisneros skilfully limited the damage by placing third behind Bryan Heitkotter (Nissan). Things went less well on Sunday, as Henrique was unable to go beyond 23rd place, while Heitkotter won the race. Ferrari's record in Sunday's race was saved by the Mexican Martin Fuentes (Scuderia Corsa) who, after a forgettable Saturday race, drove valiantly on Sunday to earn the third step in the podium. The other Cisneros, Eduardo (NGT Motorsports), took a 24th and a 20th place. Henrique Cisneros keeps first place in the championship standing, 28 points ahead of Montecalvo.
Source: Ferrari