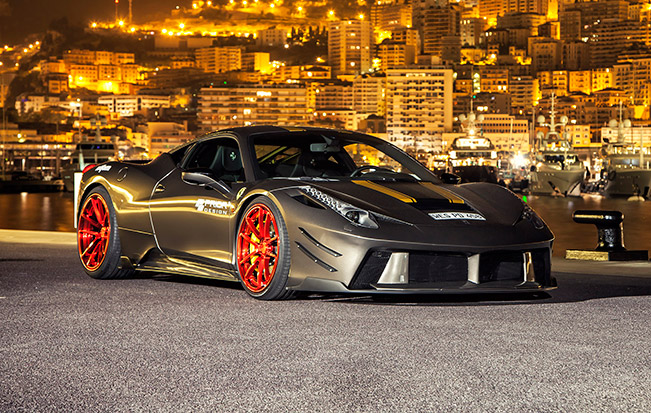 For purists, Ferrari is synonymous for the ultimate sports car, and therefore a sacred object! Apart from being a perfect piece of automotive art, it is also an unmistakable symbol of wealth and success.
Speaking of wealth, a week before the prestigious Top Marques Monaco event, the whole PRIOR-DESIGN PD458 team and a number of their customers set off for the South of France in a convoy of supercars. Their goal: to see and be seen!
The gathering before the Top Marques event has become a show in itself, with spectators lining the streets of Monaco en masse to soak up the sights and sounds of dozens of standard and modified supercars.
A standout member of the PRIOR-DESIGN "Monaco-Team" was the Ferrari 458 Italia, resplendent in a newly developed body kit. This latest offering brings PRIOR-DESIGN head-to-head with established competitors like Novitec Rosso, Mansory and DMC.
Although the 458 Italia's sleek form is an attention-getter out of the box, PRIOR-DESIGN's unique aerodynamic components take it a step closer to being the ultimate road and race sportscar image.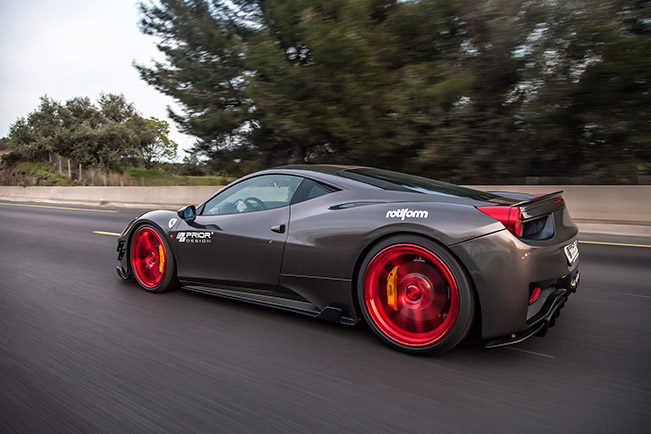 Prior-Design PD458 exterior changes
The changes start with a new front bumper with spoiler lip and Cup-Wings, and an all-new bonnet. The air along the cars flanks is smoothened out by the new side skirts with rear attachments that direct air airflow smoothly along around the Italia's Coke bottle waistline. The new bumper with diffuser and tailgate spoiler creates more downforce over the rear axle, reduces drag by minimising turbulence from the airflow separation.
In combination with H&R lowering springs, eye-catching PRIOR-DESIGN alloy wheels in 9.0×21-inch and 12.5×22-inch ill out the wheel arches and give the car its tougher stance. PRIOR-DESIGN also offers customers the choice of wheels from manufacturers like ADV.1, BBS, HRE and Vossen Wheels.
Ferrari Italia's mid-mounted 4.5 litre flat-plane crank V8 is good for 570 hp in standard form. The PRIOR-DESIGN PD458 engineers developed a Power-Package that extracts a further 45 horses, making a total of 615 hp.
In addition to an engine software remap, this conversion reduces exhaust back-pressure with equal-length manifolds, 100-cell race-grade metal catalysts and a free-flow stainless steel sports silencer with sound valve control. This conversion has been extensively tested on the Nürburgring-Nordschleife.
Source: PRIOR-DESIGN