2007 Formula One World Champion Kimi Raikkonen again showed the pace that helped to win his title, finishing with a dominating victory at the Malaysian Grand Prix on Sunday.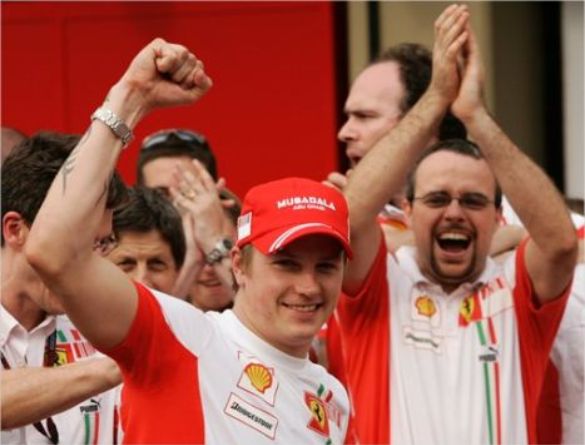 The Ferraris of both Raikkonen and teammate Felipe Massa were well ahead for the first half of the race, when Massa inexplicably spun into the gravel on turn eight of lap thirty. Massa's spin gave a big helping hand to BMW Sauber's Robert Kubica, who managed his first podium finish since Monza in 2006 by taking second place.
Points leader Lewis Hamilton made good early progress, moving from a ninth place start to fifth after the first corner of the race, only to spend a long period stymied by Red Bull's Mark Webber. Hamilton's best chance to jump ahead of the Australian driver was foiled when a sticky front wheel removal cost him more than ten seconds on his first pit stop.
PROVISIONAL RACE RESULTS

The Malaysian Grand Prix
Sepang, Kuala Lumpur, Malaysia;
56 laps; 310.408km;
Weather: Sunny.

Classified:

Pos  Driver        Team                      Time
 1.  Raikkonen     Ferrari               (B)  1h31:18.555
 2.  Kubica        BMW Sauber            (B)  +    19.570
 3.  Kovalainen    McLaren-Mercedes      (B)  +    38.450
 4.  Trulli        Toyota                (B)  +    45.832
 5.  Hamilton      McLaren-Mercedes      (B)  +    46.548
 6.  Heidfeld      BMW Sauber            (B)  +    49.833
 7.  Webber        Red Bull-Renault      (B)  +  1:08.130
 8.  Alonso        Renault               (B)  +  1:10.041
 9.  Coulthard     Red Bull-Renault      (B)  +  1:16.220
10.  Button        Honda                 (B)  +  1:26.214
11.  Piquet        Renault               (B)  +  1:32.202
12.  Fisichella    Force India-Ferrari   (B)  +     1 lap
13.  Barrichello   Honda                 (B)  +     1 lap
14.  Rosberg       Williams-Toyota       (B)  +     1 lap
15.  Davidson      Super Aguri-Honda     (B)  +     1 lap
16.  Sato          Super Aguri-Honda     (B)  +    2 laps
17.  Nakajima      Williams-Toyota       (B)  +    2 laps

Fastest lap: Heidfeld, 1:35.366

Not classified/retirements:

Driver        Team                      On lap
Vettel        Toro Rosso-Ferrari    (B)    41
Massa         Ferrari               (B)    31
Sutil         Force India-Ferrari   (B)     7
Glock         Toyota                (B)     2
Bourdais      Toro Rosso-Ferrari    (B)     1

World Championship standings, round 2:                

Drivers:                    Constructors:             
 1.  Hamilton      14        1.  McLaren-Mercedes       24
 2.  Raikkonen     11        2.  BMW Sauber             19
 3.  Heidfeld      11        3.  Ferrari                11
 4.  Kovalainen    10        4.  Williams-Toyota         9
 5.  Kubica         8        5.  Renault                 6
 6.  Rosberg        6        6.  Toyota                  5
 7.  Alonso         6        7.  Red Bull-Renault        2
 8.  Trulli         5        8.  Toro Rosso-Ferrari      2
 9.  Nakajima       3
10.  Webber         2
11.  Bourdais       2

All timing unofficial