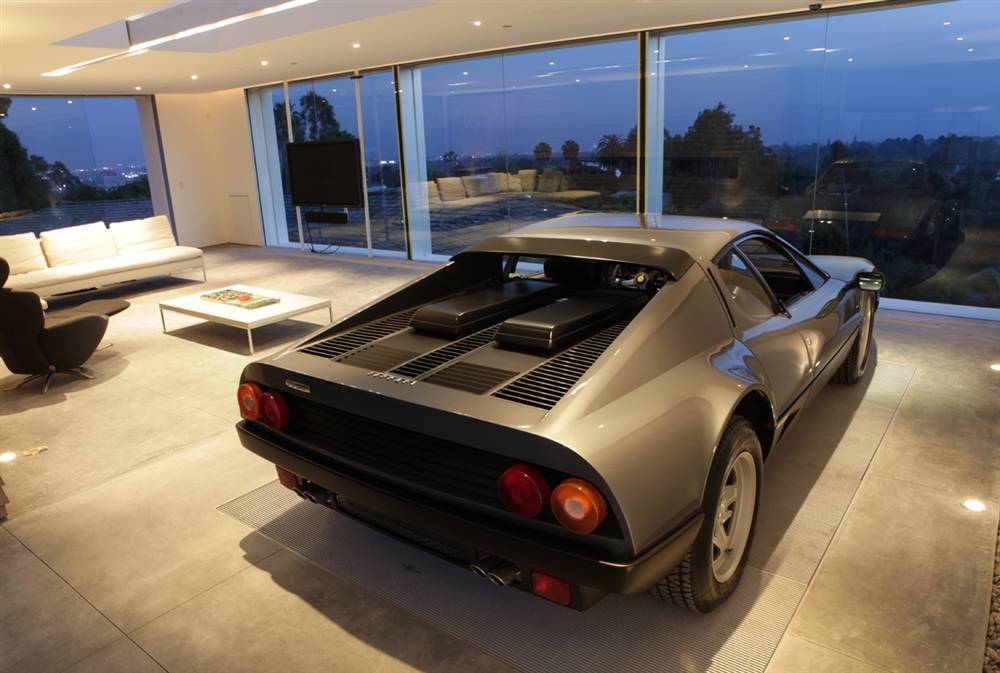 Holger Schubert's award-winning garage
Last summer, Maserati held a competition to identify the best garages in the world. There were two categories: Concept and Existing. While the concept winner was pretty spectacular, the existing garage was breathtaking. Remember the glass-walled garage in Ferris Bueller's Day Off? The one that Cameron launched his father's vintage Ferrari California Spider through? That was a pretty amazing garage and similar to Holger Schubert's Maserati competition winner. The difference is that Schubert took that concept one step further and simply built a 10-foot concrete bridge to his glass-walled living room.
The ultra-modern room won the Maserati contest, which was actually done in conjunction with Architectural Digest magazine. It's decorated with "stylish furniture, a built-in bookcase and a flat-screen TV that slides on tracks past walls of glass that frame an ocean view." Oh, there's also that immaculate Ferrari 512 BBi sitting front-and-center.
The living room garage is part of a $1.5 million remodel that product designer Schubert has undertaken on his Brentwood home. Although initially granted permission by the city to build the bridge so he could better comply with off-street parking regulations, Los Angeles officials are now asking him to tear it down. Neighbors have apparently complained about the bridge and see it as a safety risk as well as a bad precedent for homes in the area. Schubert thinks they're just pissed that his remodeling project is taking so long. It's been about five years so far. We think they're just jealous of the gorgeous grigio Boxer.
It's not over for Schubert. There's still a slim chance he might be able to save the award-winning garage by getting a zoning variance or winning a court reprieve. We wouldn't hold our breath if we were him.