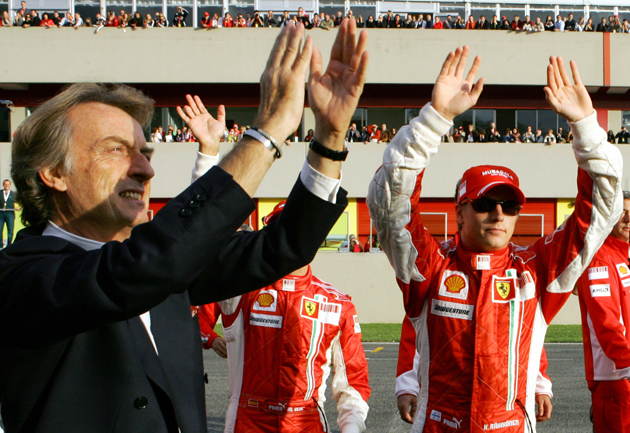 First up is Kimi Raikkonen, the 2007 World Champion who Ferrari is paying to vacate his seat in order to make room for Fernando Alonso. Following earlier reports that Kimi would stand to make more by sitting out next season, the Finnish driver's manager has reportedly announced that he'll be taking a sabbatical. This, after negotiations with McLaren broke down over such issues as salary, promotional obligations and freedom to drive the occasional rally. Raikkonen's repeatedly reiterated that he's only interested in a winning team, and could take the year to hone his rally skills instead. A tie-in with Red Bull could provide him with a WRC drive and a return to F1 for 2011.
Meanwhile, Kimi's predecessor, Michael Schumacher, is reportedly changing his role with the team as well. For the past couple of seasons, Schumi has served as a special adviser to the Scuderia, often showing his smiling mug on the pit wall at various grand prix events. But while the seven-time World Champion has signed on for another three years to help with the development of future Ferrari road cars, his F1 role with the team has apparently ended. In an effort to sort out why Schumi won't be active with the team any longer, speculation has escalated that Michael could reunite with Ross Brawn and return to the cockpit as a driver for the newly christened Mercedes Grand Prix team, while others suggest he could join his former boss Jean Todt with a role in the FIA.
Finally, Luca di Montezemolo is eying a change in his role as well. The chairman isn't leaving his post as head of either Ferrari or parent company Fiat, but he has announced that he's likely to step down as head of the Formula One Teams Association. The representative body was formed to negotiate on the teams' behalf with the FIA and Formula One Management, but with Montezemolo's longtime underling Todt now heading the FIA, many have been citing a potential conflict of interest. For his part, Montezemolo says he wants to concentrate on his job as chairman of the Italian automakers.