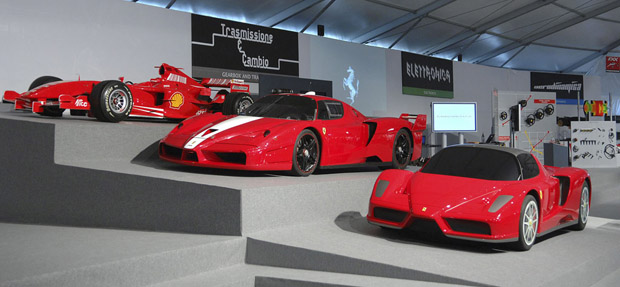 It's been nearly six years since production ended on the Ferrari Enzo. That's longer than we had to wait for the Enzo to arrive after the preceding F50 ended production, but far longer than the gap between the F40 and F50 or between the 288 GTO and the F40. In the interceding years, rival automakers like Lamborghini, Bugatti and even Aston Martin have been glad to present the uber-wealthy with million-dollar supercars, but Ferrari hasn't sat idly by. The exotic automaker from Maranello has been working on plans of its own, speculative details of which have begun to take shape.
According to reports, the project codenamed F70 should hit the streets by 2012. And when it does, expect it to take its cues from the FXX development program and the Millechilli concept car. That means all the latest high-tech race-derived technology packed into a compact frame placing its emphasis on weight reduction.
A carbon fiber body and chassis, along with a stripped-down cockpit will do their part, but don't expect the F70 to go light on the power. Ferrari's new turbo system could be ready for the Enzo replacement, possibly employing electric actuators to spool up the twin turbos to avoid lag. Coupled with direct injection, the V8 should at least match the Enzo's 650 horsepower, but cut down significantly on carbon emissions while rocketing its rich occupants to sixty in three seconds flat and top out around 230 miles per hour.