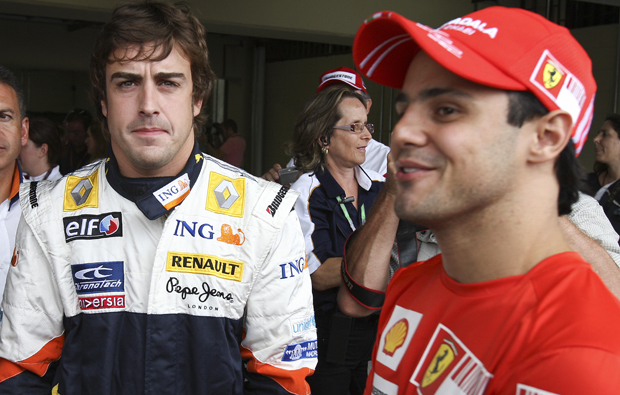 From his brief tenure at McLaren, we know that Fernando Alonso has a bit of trouble getting along with his teammates. Especially when he doesn't get the clear preferential treatment as the team's #1 driver. After all, as has often been said, a driver's teammate is his chief rival. So after Ferrari confirmed that Alonso and Felipe Massa would be put on equal footing, we smelled some trouble a-brewin'. But we didn't expect it to start at least until the beginning of next season. Turns out, that was a bit premature, as some cracks in the relationship between the two teammates-to-be have already started to show.
Speaking with a group of journalists in his native Brazil where the F1 circus is preparing for this weekend's grand prix, Felipe Massa said with "absolute certainty" that Alonso knew about the plan to have wingman Nelson Piquet crash to hand him the controversial victory. That's a pretty hefty charge levied by his future teammate, and Ferrari naturally scrambled to issue a clarification but you can't take back what's already been said.
Massa was suitably – and vocally – upset when the Crashgate story broke, because without Alonso's ill-earned victory, Massa would have won the championship last year, instead of losing to Lewis Hamilton by one point at the last corner of the last lap of the last race of the season. Better luck next year, gents.