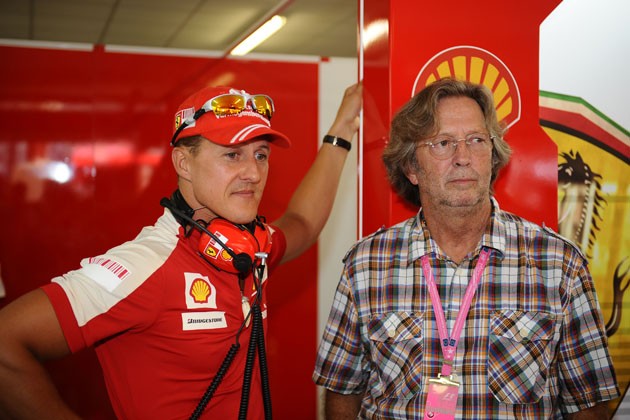 Hey brother, can you spare a chin? Clapton in the Ferrari paddock with Michael Schumacher
When you've recorded as many platinum records, collaborated with as many big names and topped as many best-guitarists-of-all-time lists as Eric Clapton, you can get pretty much anything you want. And the ironically nicknamed Slowhand is known to have a taste for Ferraris. So much so that when he stopped by the factory in Maranello, even Ferrari couldn't pass up the opportunity to interview him.
Neither could Quattroruote, for that matter. While speaking with the Italian car-mag, Clapton reportedly professed his love for the new 458 Italia… with just one caveat: He's not such a fan of eight cylinders. Could he get it with V12?
According to Quattroruote, apparently he can, as Ferrari has reportedly agreed to build it for him, with the 6.0-liter V12 from the 599 GTB Fiorano. We'll believe it when we see it, which is pretty much exactly what we said the first time we heard the guitar riff on Layla.