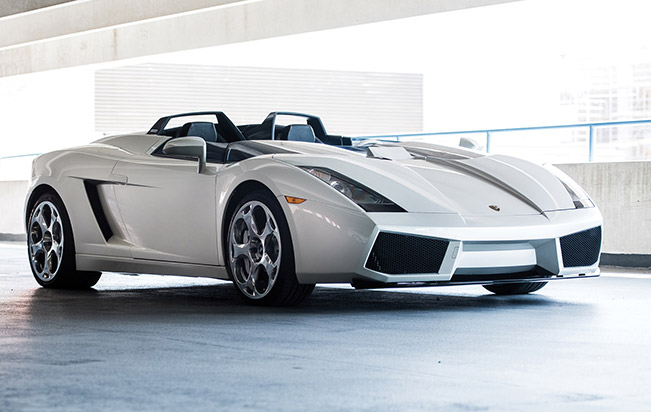 RM Sotheby's, the world's largest collector car auction house for investment-quality automobiles, is thrilled to announce its return to Manhattan, November 18 for the second iteration of its exclusive Art Automobiles sale. The ultimate celebration of the RM Sotheby's partnership, the upcoming auction will shine a spotlight on cutting-edge automotive design, lifting the gavel on some 30 blue-chip automobiles and select memorabilia.
The November auction follows in the footsteps of RM's pioneering 2013 New York event. The first major collector car auction to be held in Manhattan in over a decade, the sale generated an extraordinary $63 million during just two hours of spirited bidding, raising the bar for collector car auctions with its innovative approach and presentation.
This year's event, held at Sotheby's global headquarters in Manhattan, is set to amplify these results. The automobile offering will again feature a selection of vehicles handpicked for their rarity, significance to design, engineering, and for the outstanding achievement they represent in their respective category; all will be displayed as part of an exclusive exhibition in Sotheby's prestigious 10th floor galleries ahead of the sale. In a bid to broaden the event's appeal, the catalogue will also feature a selection of more traditional artworks, including paintings and sculptures tied to an automotive theme
"Returning to the global stage of New York City is particularly special this year as we've entered into partnership with Sotheby's. We are looking forward to once again hosting a world-class exhibition and auction with our new colleagues," says Rob Myers, Chairman and Founder, RM Sotheby's.
Befitting a sale focused on cutting-edge design, early entries for RM's 2015 New York event are led by a unique 2006 Lamborghini Concept S, chassis 001. Conceived by the marque's then head of design, Luc Donckerwolke, the car was introduced as an extreme interpretation of an open-top Lamborghini Gallardo. First presented as a non-running design study at Geneva in 2005, tremendous public interest in the Concept S prompted the decision to build a functional version of the vehicle in order to further gauge potential customer demand.
The fully operable version debuted at the Concorso Italiano the following year; a proverbial show-stopper, it remained true to its concept yet seemed even more extreme. The so-called "saute-vent" windscreens, re-designed and lowered for homologation, were even more radical than the original design, serving to visually divide the cabin and creating a "spine" that runs between the passenger and the driver.
While a limited run was originally planned for the Concept S, the exceedingly high cost and time-consuming production ultimately ended with the first example also being the last, rendering chassis 001 – the vehicle slated for RM's New York sale – a true, production-ready, one-off Lamborghini. In single ownership from new, the current owner took delivery of the Concept S soon after it's unveiling. It proved so popular that it was routinely invited back by Lamborghini to be shown around the world, including twice at the Pebble Beach Concours d'Elegance. Fully operable and street-legal, it has been driven only 180 km, with many of those accumulated during initial testing and the remainder on the show field (Estimate: $2,400,000 – $3,000,000).
Source: RM Sotheby's