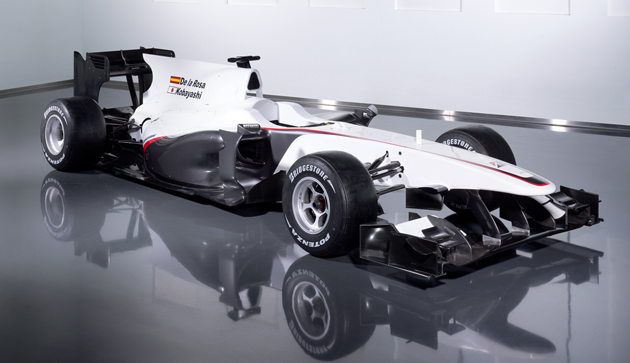 2010 BMW Sauber C29
There's no easy way to design and build a new F1 car, but the road to Valencia has been longer for the Sauber team than its competition. The team quite nearly missed the chance to race this year after BMW withdrew its support and a subsequent deal to sell the team fell through. But team founder and namesake Peter Sauber managed to get the funds together to buy his team back, and after narrowly acquiring a spot on the 2010 grid, this is the first fruit: the Sauber C29.
Technically, the team still bears the BMW Sauber moniker, but it's not the Bavarian automaker's engine under the cowling: it's Ferrari's. The name game is simply a formality. Having run Maranello's engines for years in the pre-BMW era under the Petronas brand, both Ferrari and Sauber are used to the arrangement.
Petronas is also gone, migrating to the rival Mercedes GP team (and not, as might have been assumed, to the Malaysian-backed Lotus team). As you can see, the C29 – the third car to make its debut during the Valencia test session – was unveiled with no sponsor branding whatsoever. Rumor has it that both drivers – 38-year-old veteran McLaren test driver Pedro de la Rosa and 23-year-old rookie Kamui Kobayashi (who impressed in his debut for Toyota last season) – have brought sponsorship along with them, Kobayashi in particular linked to Panasonic, which sponsored Toyota's cars until the Japanese automaker's withdrawal last season.
With BMW or without, Sauber's made the grid, but the team still has a long way to go.