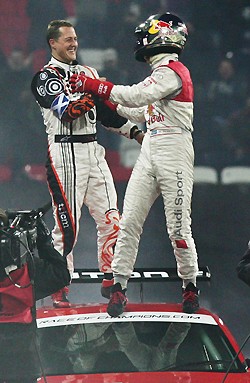 The Race of Champions is scheduled to return to its new home at London's Wembley Stadium on December 14th. For those unfamiliar, the annual event pits a host of the best racing drivers in the world against each other on carefully-calibrated equal terms. The event is split between the solo competition and the nations' cup, the latter in which countries send their two best drivers to claim the honors for their homeland.
Last year's event saw DTM champion Mattias Ekstrom defeat Schumacher in the final rounds, after the two (pictured at right) made minced meat out of the rest of the field in a variety of vehicles including the Aston Martin V8 Vantage N24, Ford Focus RS WRC, Fiat Grande Punto S2000 Abarth, an Opel/Vauxhall-based Solution F touring car and a purpose-built sprint car. This year retired seven-time F1 champion Michael Schumacher is set to return, teaming up with rookie driver Sebastian Vettel again for Team Germany. So far only Schumacher and Vettel have confirmed their participation for 2008 – last year Travis Pastrana valiantly held down the fort for Team USA on his own – but more are sure to join as the date approaches. Stay tuned.
All IT certifications are designed to certify your unique skills and verify your abilities to work with the related certification product. Cisco certifications such as CCIE Storage Networking Written Exam #350-040, Cisco 646-363 CXFA and 650-393 LCSE provide you access to the unique resources. 1Y0-308 Citrix® Access Gateway, EMC E20-001 and 1z0-047 Oracle 11g DBA OCA offer you a life-long career path for developing your IT skills.