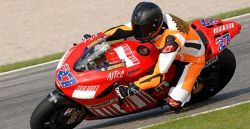 Just weeks before the launch of the 2008 Formula One season in Australia, a wild hare of a rumor has started making the rounds that seven-time F1 world champion Michael Schumacher is hankering to make a return to racing, though this time in the saddle of a MotoGP sport bike.
French newspaper L'Equipe published an article, which speculated on a possible Schumacher wild-card entry for the MotoGP race at Mugello this year. It's known that Schumi has twice shown excellent pace (shocking, we know) testing for Ducati, but new reports say that the F1 hero may have recently taken the saddle again at the Circuit de Bresse in France.
The French report goes on to say that an affiliate of Schumacher paid a visit to the MotoGP HQ in order to secure permission to enter the Mugello race.
So far the MotoGP brass are roundly denying the story to anyone who'll listen, but consider our interest piqued. How do you think the former champion would fare on the back of a Ducati?