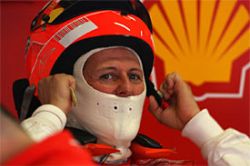 Ferrari have made clear progress since last year and are ready to fight for victories in 2008, Michael Schumacher said after testing the Italian team's new car at Barcelona.
The 39-year-old German had not driven the F2008 before, but got back to action yesterday for the first of two days of testing at the Spanish circuit.
Ferrari are using Schumacher's expertise because of the introduction of a ban on electronic driver aids for 2008.
The seven-time champion says the new car is a real step forward compared to last year's.
"The progress is very clear," Schumacher told reporters at the end of testing. "In all areas, it never changes, so why it should change now. It is not one thing you have to improve to go quicker, it is just everywhere.
"I feel we are ready and prepared to fight for victory."
Schumacher predicts an exciting season, and he reckons Ferrari and McLaren will again be the main contenders.
"It will be very interesting. You have two contenders as last year, you have some questions marks about what they can or they cannot do, so it should be very exciting."
The German said the lack of traction control and engine braking is making the driving quite a bit trickier.
"You would be surprised how much when you have to work without all the systems," he added.
"It is just that you have to be careful, especially in the morning when it is very slippery, you have to use your brain."