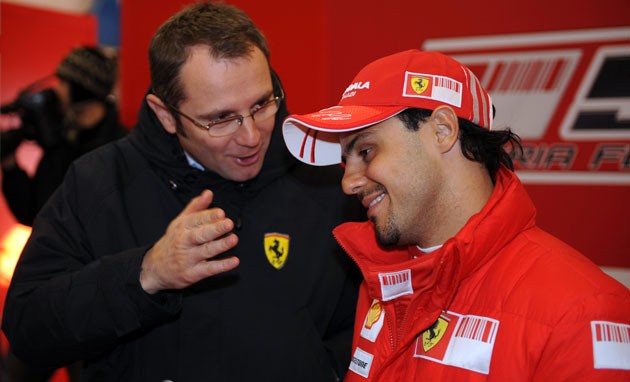 The 2010 Formula One season isn't even halfway through, and already speculation has been ramping up for next year's line-up. The biggest piece of the puzzle revolves around Felipe Massa, the Brazilian driver who has – notwithstanding a few seasons spent farmed out to Ferrari-powered Sauber – been with the Scuderia since advancing to the series in 2002 with the European Formula 3000 title under his belt.
Word around the paddock is that Ferrari has been unsatisfied with Massa's performance this season. After coming a close second in the championship in 2008, Massa suffered a crippling crash last season, sidelining him for the remainder, only to return to the scarlet cockpit this year. So far, however, Massa's been languishing behind his rivals, currently sitting seventh in the standings while his team-mate Fernando Alonso holds on to fourth place.
The lackluster performance has led to rumors that Ferrari would opt to release Massa – who is managed by FIA president and former Ferrari CEO Jean Todt's son Nicolas – rather than renew his contract which is due to expire at the end of this season. That, in turn, led to speculation that either Red Bull's Mark Webber or Renault's Robert Kubica could get called up to Maranello. But speaking with the BBC in the ramp up to this past weekend's Turkish Grand Prix, team principal Stefano Domenicalli indicated that Massa's contract would, in all likelihood, be renewed after all. Nothing is certain until the papers are signed – and even then things can change – but for now it looks like Felipe is set to stay in the red.