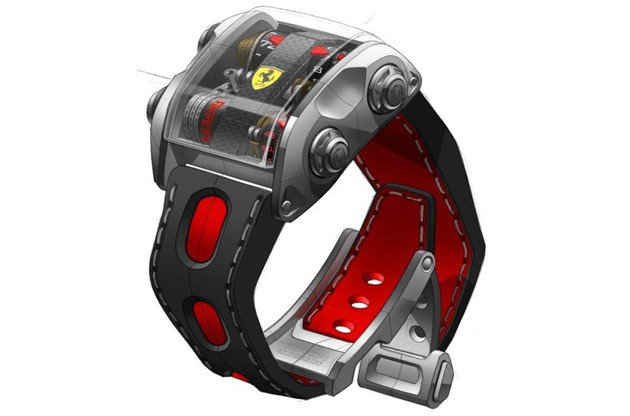 Scuderia Ferrari One by Cabestan
Ferrari's ever-expanding branding initiatives took a hit recently when the Italian automaker and racing team split with its watchmaking partner, Panerai. Apparently the collaboration wasn't doing much for either brand, so they called it quits. But it appears Maranello may be learning from its mistakes with this new collaboration.
What you're looking at here is a pre-production rendering of the next Ferrari timepiece. It's the brainchild of renowned watch designer Jean-Francois Ruchonnet, and will be produced by exclusive Swiss watchmaking atelier Cabestan. Based on some of Ruchonnet's previous designs for Cabestan, the Scuderia One incorporates an incredibly intricate vertical tourbillon movement, chain-driven via individually handcrafted links, with carbon fiber and other exotic materials employed in its construction.
Not enough to separate it from the Panerais and Girard-Perregaux watches that came before? Then the pricing and sheer exclusivity ought to do the trick. The watch will reportedly be limited to just 60 examples, available only to existing Ferrari owners at a price point of – wait for it – $300,000. Now if that doesn't say "Ferrari" to you, we don't know what will.