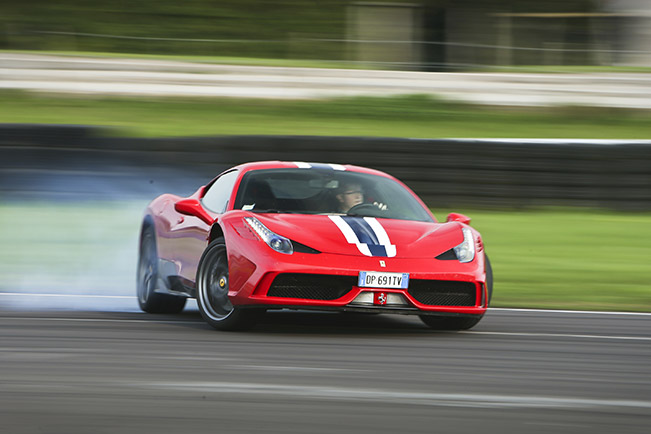 A selection of Britain's Best Driver's Cars including the Ferrari 458 Speciale, McLaren 650S and Porsche 911 GT3 will light up the Live Action Arena at next month's Performance Car Show, which will also feature a Guinness World Record attempt from Brit Alastair Moffat.
During the 8-11 January event*, held alongside motorsport's Autosport International, the UK's largest indoor racetrack will host exciting, hour-long shows packed with stunts, live racing and celebrity appearances.
Sky Sports Formula 1 commentator David Croft will present the action, which will include FIA World Rallycross Champion and former FIA World Rally Champion Petter Solberg demonstrating his ex-WRC Citroën Xsara.
Stunning machines from the Performance Car Show presented by Landsail Tyres in association with Autocar and PistonHeads.com will bring the best of the motoring world to the 5,000-seat amphitheatre.
Motoring bible Autocar is presenting nine finalists from Britain's Best Driver's Cars 2014, while What Car? will showcase a selection of winners from its Car of the Year Awards 2015, held on the eve of the show.
Crowned by Autocar as the best car on the road, the Ferrari 458 Speciale will lead the pack. With 605hp, it's propelled by the most-powerful naturally aspirated V8 ever produced by Ferrari and armed with active aerodynamics.
The exhilarating Ariel Atom 3.5R was the best of the British models, finishing second, and it's not hard to see why. The limited edition two-seater weighs just 550kg, is powered by a 350hp engine and goes from 0-100mph in just 6.0 seconds.
They'll be joined by McLaren's 650S supercar, which covers 0-60mph in less than three seconds, while the legendary Porsche is represented by its 911 GT3 and Cayman GTS. The Jaguar F-Type R Coupé, BMW M4, Renault Mégane RS 275 Trophy and Vauxhall VXR8 GTS will also be present as performance-packed finalists.
"With Autocar Britain's Best Driver's Car 2014 finalists and a selection of newly-crowned What Car? Awards 2015 winners, some of the finest machines on the road will be demonstrated in every Live Action Arena session," said Ian France, Performance Car Show Director.
"Including supercars like the phenomenal Ferrari 458 Speciale and McLaren 650S, it'll be a unique opportunity to see and hear these diverse models put through their paces, as the Performance Car show comes to life."
In each show, Alastair Moffat will look to reclaim his Guinness World Record for the world's tightest parallel park. Set in 2013, Moffat's record of performing a handbrake park into a space just 3.4 inches longer than the Mini he was driving was broken in November by Chinese Drift Champion Han Yue.
Excitement also comes through side-by-side racing from the BTRDA Rallycross Clubman Championship, BriSCA F2, BriSCA F1 Stock Cars, Autograss Class 7 and Specials, while stunt hero Terry Grant and the popular Team Japspeed drifters return with inch-perfect performances.
Source: Performance Car Show