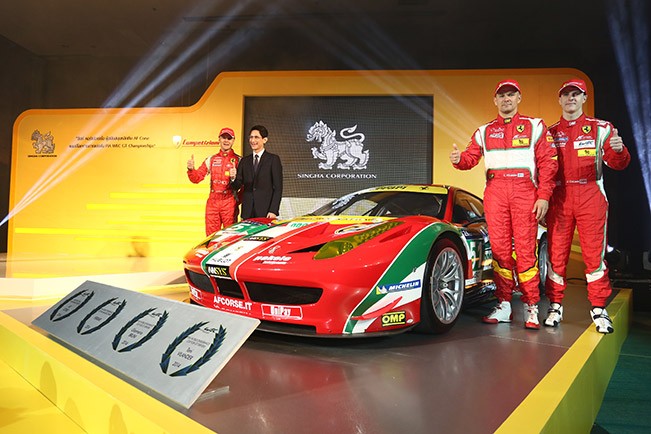 In Bangkok, Thailand, Singha Corporation held its annual press conference to present the 2015 Ferrari Challenge and GT racing activities, in which it has been involved since 2013, alongside Ferrari and the AF Corse team, in the FIA World Endurance Championship (WEC) as a partner and official sponsor. Representing Ferrari at the conference were the two GT world champion drivers, Gimmi Bruni and Toni Vilander, along with James Calado. Singha Corporations's Vice President, Voravud Bhirombhakdi, announced that it would be extending the sponsorship agreement with the Prancing Horse marque for the next three years, covering both the Ferrari Challenge and GT Racing.
Singha is the largest beer producer in Thailand and it's logo will thus continue to have a presence on all the 458 Italia GT cars used in the GT championships and on all the 458 Challenge EVO cars used in the most prestigious one-make series in the world, namely the Ferrari Challenge. Antonello Coletta, head of GT Racing Activity and Corse Clienti Ferrari, took part in the conference via video message. He thanked Voravud Bhirombhakdi and all the Singha management team for their great support over the years. He also underlined the strategic importance of the renewed sponsorship agreement, that will continue to link two great companies, Ferrari and Singha, both steeped in history and tradition, over the coming years. "This will be a partnership that will always look to the future," added Coletta.
The press conference ended with the unveiling of a 458 Italia GTE, a true front runner in last year's GT season and which will be back racing in the FIA World Endurance Championship this 12 April, when the opening round, the Silverstone 6 Hours takes place in England.
Source: Ferrari