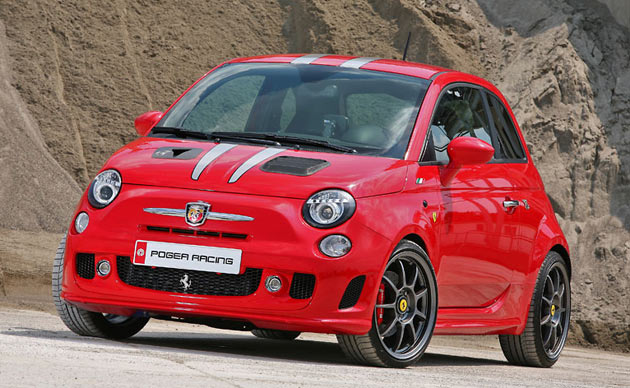 Soon enough, we Americans will be able to feast upon the Forbidden Fruit that is the Fiat 500. Will we get the hotted-up Abarth models? That remains to be seen, but one thing's for sure, we're super duper jealous of the hotter hatch that the folks at Pogea Racing have created – the 500 Ferrari Dealers Edition which boasts more power (a lot more power, actually) all wrapped in a too-cute (but still somehow menacing) package.
The Pogea team starts with a 500 Abarth, which in standard form produces 160 horsepower and 169 pound-feet of torque. From there, a new turbocharger, exhaust system, downpipe and catalytic converter have been added, meaning that the tiny Fiat now cranks out a whopping 264 hp and 243 lb-ft. Staggering numbers for a car that's smaller than a Mini Cooper. To tame all of that extra grunt, larger brakes have been added that reduce braking distance by about six feet, though the new stoppers are identical in weight to the standard Abarth setup.
Yes, we want one. In fact, we'll take two. Scroll through the gallery below to see dozens of high-resolution photos, and follow the jump to read Pogea Racing's (translated) press release.
[Source: Pogea Racing]