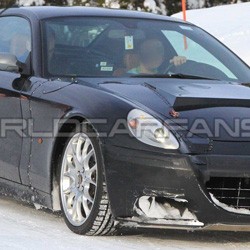 The Ferrari 612 Scaglietti is due for a major overhaul and the next generation 2+2 is expected to grow in size, be available with all-wheel drive and come packing Ferrari's new HY-KERS system.
Caught cold weather testing near the Arctic Circle, the 2012 model is sporting a longer wheelbase and redesigned front and rear fascias, along with a massive hood bulge. Power is expected to be provided by an Enzo-derived V12 putting out around 530 horsepower and 430 pound-feet of torque, and delivering grunt to a modified seven-speed dual-clutch gearbox found in the 458 Italia and Ferrari 599 HY-KERS concept.
Although the fitment of all-wheel drive remains a rumor, there's a significant chance that the next 612 will be equipped with Ferrari's new hybrid system, complete with lithium-ion battery pack and three-phase electric motor to put out an addition 100 hp. If we're reading our tea-leaves properly, we'd expect the new 612 to be unveiled early next year with sales beginning in late 2011.