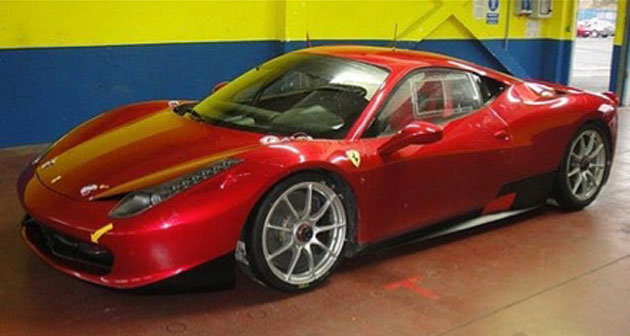 Ferrari 458 Italia Challenge
The crew at the Axis of Oversteer have managed to snag what could be the first images of the upcoming Ferrari 458 Italia Challenge, and while no one's claiming that this is the real McCoy just yet, it's certainly packing the right kit.
The standard coupe's five-lug wheels have been nixed in favor of a single lug units, with each nine-spoke, lightweight hoop framing massive carbon ceramic stoppers. The Challenge appears slightly lower than stock and includes some revised aero bits in the form of longer, wider side skirts, a revised fascia and a bonnet sporting a set of hood pins.
Out back and inside, things appear to be slightly rough around the edges, so it's safe to assume this is just a prototype for the time being. However, the roll cage, plastic windows and deeply bolstered race seat are all sure to make the cut when the Challenge debuts later this year.
One thing we do know: The launch of the 599 GTO is going on this week in Italy, so it's likely that journalists are getting a sneak peak at the Challenge between making runs in Ferrari's Enzo-beating GT. That being the case, expect all the details to be revealed shortly.