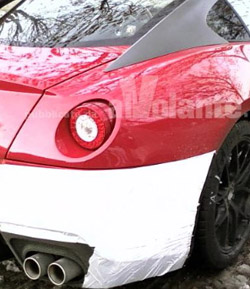 Few letters hold the same lore for Ferrari fans as G-T-O. Pontiac muscle-cars aside, the letters were first used on the iconic '60s-era 250 GTO. The 288 GTO followed two decades later and laid the ground for the F40, the first in the modern age of Ferrari supercars. Now the name is set to come back again on an extreme version of the 599 GTB
Bridging the gap between the roadgoing 599 GTB Fiorano and the track-bound experimental 599XX – and filling the hole left by the Enzo – the 599 GTO promises epic levels of performance (and extreme exclusivity) worthy of the GTO moniker. The prospect first broke cover back in November when internal documents referred to a "599 GTO Limited Edition," and was followed up with more speculative details – including a 700-horsepower output figure – early last month. Now an intrepid observer in Maranello with a camera handy appears to have snapped a camouflaged prototype out in the wild.
Aside from the yards of white vinyl and black tape telling you something's up, this 599 test mule is wearing big black alloys, a blacked-out roof (like that of the 599XX, albeit sans the extra winglets), a monster rear diffuser and Prova-style factory plates. Beyond that there's little to tell, but this is the first evidence we have beyond rumors and conjecture as to what Maranello is up to next.