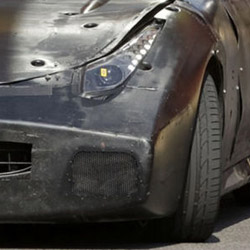 Details may have finally surfaced on the mystery Ferrari we saw bumping around Maranello in a piece of shaky-hand-cam YouTube action late last month.
According to Auto Express, the long-nosed Horse could be none other than the 612 Scaglietti. The site points to the camo'd mule's rear roofline and somewhat recognizable hood as evidence of the car's identity. If true, this mule would have us believe that the next Scag will wear headlights that are at least partially inspired by the new 458 Italia. As for the rest of the car, it's hard guessing as to what we can expect.
This tester wears such extensive cladding that it's nearly impossible to get a feel for what the rest of the car may look like, which means we'll have to wait until our army of spy photographers comes up with some photos of the car later in its development. Head over to Auto Express to get a look a look at the whole package.