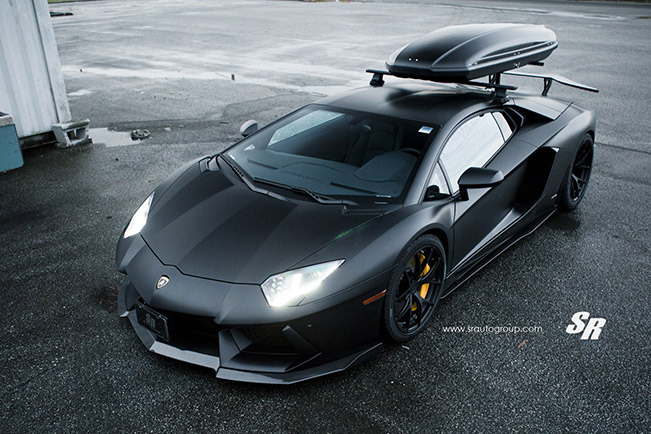 The term winter mode usually refers to reverting your vehicle back to a factory like appearance to get through the cold months, but here at SR it has a whole different meaning. PROJECT700 has been a build that we've been documenting from start to finish to showcase how you can always make your car a head turner all year long.
Starting with the exterior, we install a full carbon fiber PUR Aero kit to accentuate the beautiful lines of the Aventador even more. To ensure that the carbon stays nice and shiny, we applied a clear vinyl to protect it from the harmful affects of our salty roads. The body was then wrapped in a satin black vinyl for both aesthetic and protection purposes.
Seeing that this Aventador intends to hit the slopes all winter long, it needed an external storage compartment to store all the gear. This is where a custom made rear attachment was designed to pair with a eight foot long Thule ski box. The box itself was then wrapped in the same satin black vinyl as the exterior for a unified look.
With much of the exterior already adorning a black motif, we continued that theme onto the wheels. A set of factory flush PUR 4OUR's were installed along with a meaty set of Pirelli Sotto Zeros. The wheels feature a strong powder coated finish in which will be able to withstand the winter months. As we showed you previous, the suspension was courtesy of PUR Basics. The lowering system allowed us to drop the vehicle to a fully functioning height.
Winter should never stop you from making your car look the best it can. Contact us today to find out how we can properly "winterize" your car.
Wheels & Tires
PUR 4OUR, 19×9.5, 20×12 | Modern Black
Pirelli Sotto Zero, 255/35/19 | 335/30/20
Exterior
PUR Aero Carbon Fiber Front Lip
PUR Aero Carbon Fiber Side Skirts
PUR Aero Carbon Fiber Rear Spoiler
PUR Aero Carbon Fiber Rear Deck Lid
PUR Aero Carbon Fiber Rear Spoiler
Satin Black Exterior Vinyl
Suspension
PUR Basics Lowering System
Accessories
Thule Satin Black Ski Box
Thule Satin Black Roof Rack Attachment
Custom 'SR Executive' Rear Attachment Stand
Source: SR Auto