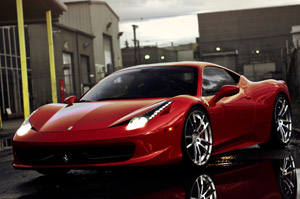 Sensational Ferrari 458 Italia in Rosso corsa red has released the SR Auto Team. The Project Era looks amazing with its restyled wheels in silver finish, which features a unique blue sheen. The sizes are also impressive: the Ferrari sits on 21" and 22" wheels.
The Rosso corsa red is probably the most emblematic car in Ferrari's history. Today any color is delivered to the customer. Nonetheless the Rosso corsa red is the staple Ferrari color and it has captured and continues to capture many hearts.
The 458 Italia is powered by a naturally aspirated 4.5 liter V8 with 570PS (419 kW) at 9000RPM and 540Nm (399 lb-ft) at 6000RPM – 127 PS/liter from a naturally aspirated engine. Furthermore, the sports car is 1380 kg, so it has power-to-weight ratio of 2.42 kg/hp. 0-100 km/h in 3.4 seconds a top speed of 325 km/h (202 mph).
There is no doubt that this project will be much appreciated.