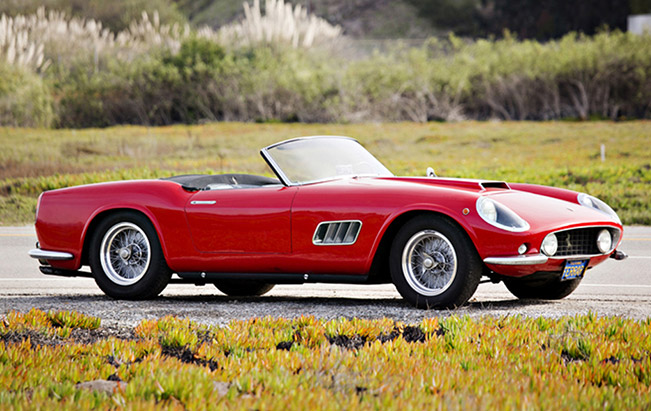 Sales at the recent Gooding & Company auction in Scottsdale exceeded all expectations with the 17 Ferraris on the block fetching a total of 23.5 million dollars, over 17 million of which was paid for just five extraordinary cars. The lion's share, in fact, went to the 1959 Ferrari 250 GT LWB California Spider, one of only  50 ever built, which went under the hammer for the first time in 1969. The car, Chassis no. 1425 GT, sold for 7.7 million dollars at Scottsdale.
Four gems. An incredibly rare 400 Superamerica Series I Coupé Aerodinamico also went for 4.07 million dollars. Built in 1962, it was one of just seven of its kind and had been meticulously restored in line with its original specifications, earning it Ferrari Classiche Division certification. The third highest sale price was achieved by a 1968 330 GTS, one of just 99 to leave Maranello, which changed hands for 2.42 million dollars. One of a production run of 350 of a milestone model in super sports car evolution, a 1963 250 GT Lusso fetched 1.9 million dollars, while a 1966 275 GTS went for 1.6 million (barely 200 were built).
 The other cars. The remaining 12 Prancing Horse cars to go under the hammer in Fashion Square, Scottsdale made a total of 6 million dollars. They included, most notably, a 1967 330 GTC which sold for 907,000 dollars, a 1973 365 GTB/4 Daytona, a model that won the legendary American race no less than three times, went for just under 700,000 dollars, while the 1990 641/2 Formula 1 single-seater made almost a million dollars. The latter, in fact, was the car driven by English driver Nigel Mansell in the second half of the season and in which he won the controversial Portuguese Grand Prix as well as making it to the podium in Spain and Australia.  A real jewel in the Ferrari F1 crown.
Source: Ferrari