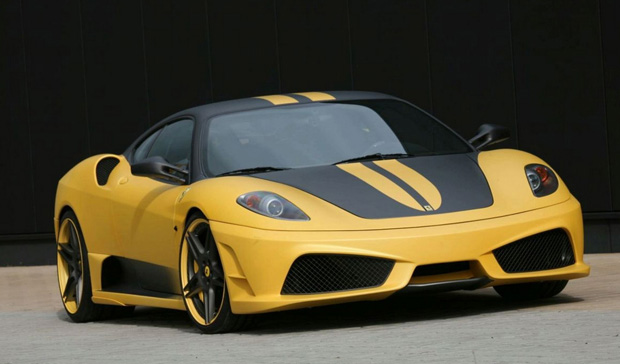 The Ferrari 430 Scuderia is already one of the hottest-performing supercars on the market, but some people just don't know how to leave well enough alone. Some of those people work at Ferrari, who've worked tirelessly on the 458 Italia to supplant the 430's already legendary performance. And some of those people work for Novitec Rosso, who've come back yet again with another mod job for the Italian stallion.
Called the Edizione 747, the custom Scuderia may not be as big as a jumbo jet, but it packs nearly as much thrust. Strapping a pair of superchargers to that high-revving 4.3-liter V8, along with a few more tweaks here and there, brings output up from an impressive 510 horses to a bonkers 747 horsepower. Intercoolers and revised aerodynamic cooling keep the engine running cool. Twenty-inch NF3 rims wear Michelin Pilot Sport Cup rubber mounted to sport springs that drop the ride height by a further 30 milimeters, available with an adjustable front end that can lift 40 mm to clear curbs and speed bumps at the touch of a button. Novitec's also decked out this particular example with a two-tone yellow and matte black paint scheme, and given the interior a few mods to complete the package.
Novitec says the 747 is capable of reaching 218 MPH, about 20 more than stock, and hitting 62 MPH in 3.4 seconds – only a touch quicker than stock, which just goes to show there's a limit to what even steamroller rear tires can handle. Novitec will only be making three examples, which just may be enough to keep a few moneyed speed freaks busy until the new 458 Italia comes around, and then it starts all over again.