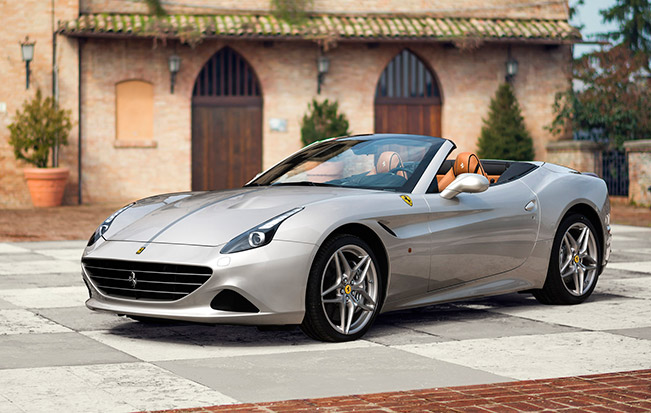 Today, at Auto Shanghai (April 22-29, 2015)Ferrariunveiled a particularly stunning bespoke California T. This California T was created especially for the Chinese auto show to illustrate how Ferrari's "Tailor Made" program allows a client to commission a car according to his or her wishes.
Since the 1950s, the Ferrari California series has embodied elegance, sportiness and versatility. In keeping with this spirit, Ferrari's design team chose to style this California T with timelesssophistication. For inspiration, the designers looked to two great icons of style, the actress Ingrid Bergman, known for her natural beauty and effortless chic, and the Kennedy familyas personified by the graceful Jacqueline Kennedy.
Finished indemure "Grigio Ingrid" a color named for the unforgettable Ingrid Bergman who chose this very shade of grey for the Ferrari 375 MM Roberto Rossellini gave her in 1954, this California T has a touch of understatement.The interiors on the other hand are rich in materials and detail, taking their cues from the worlds of interior and furniture design as well as luxury goods.In particular the seats, in reddish brown, velvety"count prestige" leather, are a variation on theKennedee chair by Jean Marie Massaud, a design that in turn was influenced by the style of America's "former first family" the Kennedys. Jackie Kennedy in particular was known for her impeccable taste not only in her own dress but in her 1961 redecoration of the White House. Waxed edges on the leather of the central console and the inside of the doors give the car an even more luxurious appearance.
Despite the vintage inspiration, the interiors of this California T still have a contemporary feel.The matte grey metallic details on the dash board and central console lend a cool modern touch,as do the black Alcantara inserts in the seating. Even the floor mats are noteworthy: they are made of 100% pure virgin wool from New Zealand with a natural jute background, this is carpet normally used in luxury home interior decoration and have an exceptionally plush feel.
Combining a restrained exterior with superb interiors, this California T shows off the best of Ferrari's Tailor Made program. It is a perfect demonstration of how the Ferrari design team can interpret design elements of the past, while giving them a fresh and innovative twist, resulting in a car that is strikingly beautiful.
Source: Ferrari