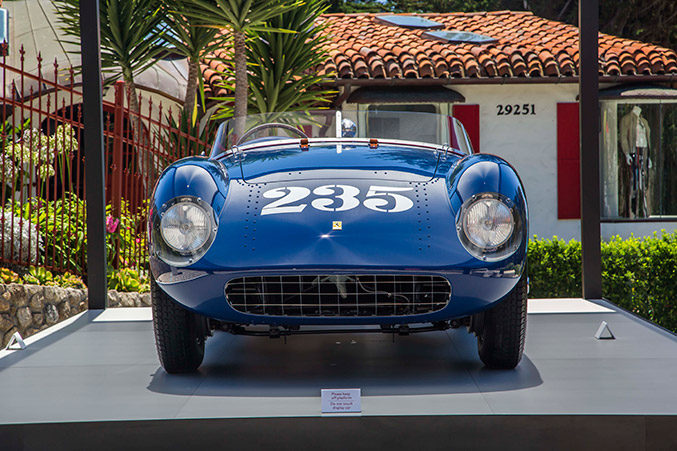 It got to Pebble Beach by the skin of its teeth, barely a week before the legendary Concours d'Elegance, but then it dominated the scene, winning no less than three prizes in two days on the Pacific coast. We're referring, of course, to Tom Peck's 500 Mondial which won First in Class in its category and then, just a day later, took the Platinum Award and the Phil Hill Trophy at the Ferrari Club of America event.
Meticulous work. The restoration of the 500 Mondial took a year and a half to complete. The car arrived at the Ferrari Classiche department with red paintwork. However, having been restored to its original condition, it left clothed in the original blue livery in which it competed in its first races in the hands of Dominican gentleman driver and ladies' man Porfirio Rubirosa. The 500 Mondial was then entered in a special category reserved for former contestants in the Pebble Beach Road Races of the 1950s.
Victory. The 500 Mondial caught the jury's imagination during the tour that precedes the Concours when all the cars competing parade along the stunning Pacific Coast Highway to Carmel by the Sea, the home of Pebble Beach. Once the selection process got underway, the car immediately attracted the attention of the group of experts headed by Chris Bock, taking a place in the trio of winners before being ultimately being named First in Class in its category.
The other plaudits. On August 16, the 500 Mondial also took part in the Ferrari Club of America's Carmel Valley event in which it took the Platinum Award in its category and also the Phil Hill Trophy for best car overall. Tom Peck now has another Ferrari with the Classiche department for restoration: a 166 that has also appeared on the big screen. The temptation to go for a double at Pebble Beach must be very strong…
Source: Ferrari