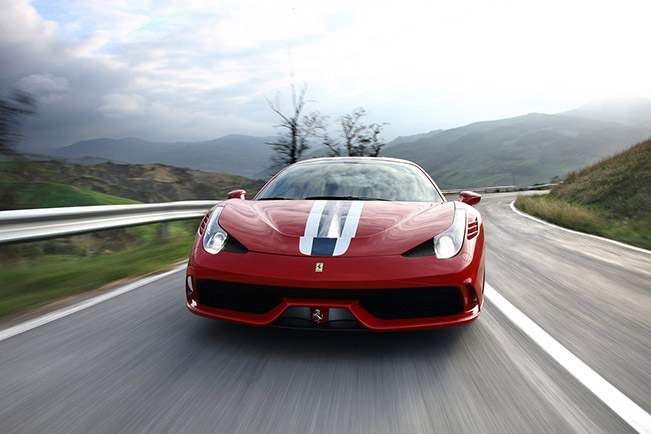 Ferrari is proud to announce the Goodwood debut of the  new California T and 458 Speciale at this year's Festival of Speed. In addition, the Ferrari F12berlinetta, fresh from receiving the Compasso d'Oro design award, will also be making a return to this year's event.
Ferrari's new Grand Tourer, the California T, will appear at Goodwood this year showcasing its all-new turbocharged V8 engine. Maranello's engineers have managed to design a remarkable power unit that combines classic Ferrari engine qualities, such as razor-sharp responsiveness, blistering performance, superbly powerful acceleration at all speeds and an exhilarating soundtrack, with the advantages of turbo technology, such as significantly reduced emissions and fuel consumption, a high specific power output and compact dimensions. This is a  genuinely unprecedented achievement that sets a new benchmark for the industry.   
The 458 Speciale is the result of the search for extreme technology, driving thrills and performance, with the application of advanced technical solutions for the powertrain, aerodynamics and vehicle dynamics. It is the first regular production Ferrari to have active aerodynamic devices on the rear diffuser, as well as mobile aerodynamic devices at the front, and it is these elements which set it apart from the 458 Italia from which it is derived to an extent unprecedented in the previous 360 Challenge Stradale and 430 Scuderia special series. The 458 Speciale's performance is exceptional across the board, with acceleration from 0-62.5mph in 3 seconds and a Fiorano lap time of 1'23"5.
The F12berlinetta, which made its UK debut here last year, will return to Goodwood. Having already won the 'International Engine of the Year' Performance Engine and Above 4-litre class award in 2013 and the 2012 Top Gear award for 'Supercar of the Year', the Ferrari F12berlinetta has now been awarded one of the oldest and most prestigious accolades in the world of design: the Compasso d'Oro.
Ferrari will also be represented by the Scuderia Ferrari team who will be demonstrating the 2009 F60 Formula 1 car driven by ex-F1 driver, Pedro de la Rosa. Special guests Kimi Räikkönen and John Surtees will celebrate the 50th anniversary of the latter's F1 Championship title in a special Shell celebration event on Sunday, the 29th of June. Each will drive their respective Championship-winning cars – Räikkönen his F2007 and Surtees a 1964 158 F1.
Source: Ferrari