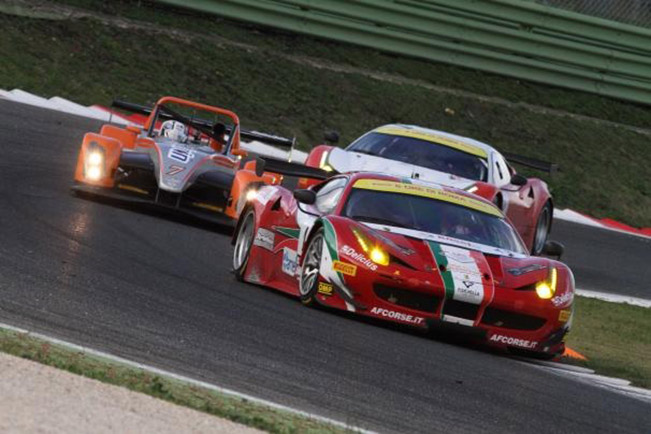 A fifth win at the Rome 6 Hours for Marco Cioci and Piergiuseppe Perazzini today at Vallelunga circuit. Crewed with them was Giancarlo Fisichella who, hailing from Rome, was keen to take part. The trio took the win the AF Corse Ferrari 458 Italia, covering 214 laps, finishing 1.25.582 ahead of the MSR Corse Tatuus in the hands of Roberto Lacorte and Giorgio Sernagiotto. Third was another AF Corse Ferrari, the number 2 car of Duncan Cameron and Matt Griffin.
Wet start. The race got underway on a damp track, although the rain had stopped and so Marco Cioci drove with caution for the opening laps settling for defending third place. A few drops of rain then mixed things up a bit in the first two hours but the duel for the lead was always between the Ferrari and the TAtuus. Perazzini took over the 458 at the first change and an hour later it was Fisichella's turn and he soon showed his class putting in fast laps to close on the Audi of Thomas Biagi, who had earlier gone into the lead.
Flying closing stages. The second half of the race saw the Ferrari lead again, with Fisichella who, shortly after the 4 hour mark, handed over to Cioci. In the closing stages, Sernagiotto made up ground on the number 1 Ferrari, but now it was just a case of managing the lead and the three expert Ferrari men brought home  the car for a well deserved win.
Source: Ferrari