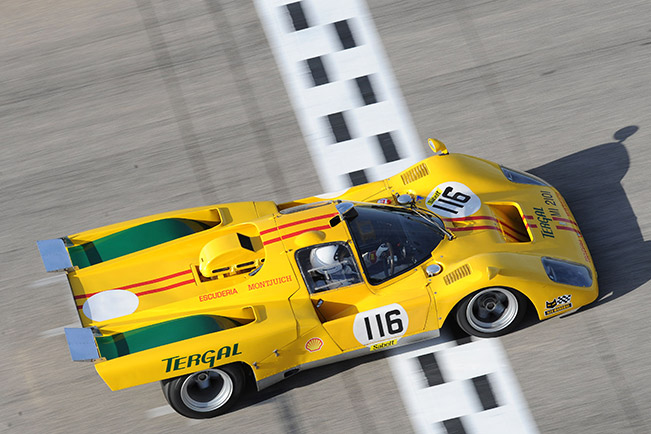 The Ferrari 512 M was the last car Maranello designed for the Sports Prototype World Championship to sport a 5-litre engine.  It was a veritable powerhouse of technology with revolutionary features that, because of a rule change, sadly never fully exploited its enormous potential. The 512 M was an evolution of the 512 S, the car that Enzo Ferrari launched in late 1969 as a rival to the Porsche 917, which was very reliable but also too heavy, 880 kg.
Debut. The Scuderia fielded the 512 M for the final race of the 1970 season, which was also the only official event it would compete in under the Maranello colours. The M, needless to remark, stood for "Modificata" because its weight had been slashed to 815 kg and its engine power boosted to 620 bhp. The bodywork had been redesigned too to improve downforce. The car debuted at the Zeltweg 1000 Kilometres with Belgian Jacky Ickx and Italian Ignazio Giunti at the wheel. The two Ferrari men were dogged by technical woes in qualifying but in the race Ickx managed to deliver times similar to those of the Porsche after only a few laps. In fact, a short time later, he even topped the pole position time he'd clocked with the Ferrari Formula 1 car just a couple of months before.  The Porsches badly struggled for the first time that season and only an alternator breakage deprived the 512 M of a spectacular maiden victory.  Before the end of the year, the car also competed in the 9 Hours of Kyalami, a non-World Championship race that featured the Porsche of newly-crowned World Champion Joseph Siffert. Although packing a one-minute penalty for a false start, the 512 M won the race with an astonishing two laps lead over its rival.
Clipped wings. 1971 should have been the crowning season for the 512 M, but the Federation announced that it was banning cars over 3-litres for 1972. As a result, Ferrari decided to abandon the project and concentrate on designing the highly successful 312 PB.  The 512 M's only works wins were at Kyalami and in the Interseries at Imola with Arturo Merzario at the wheel. Around 15 were later sold to privateer teams and won a further 12 races. Penske drivers Mark Donohue and David Hobbs came tantalisingly close to victory at Daytona, Sebring and Le Mans, and Escuderia Montjuich men Nino Vaccarella and José Juncadella were forced to retire whilst leading at Le Mans in 1971. The 512 M's final victories came in 1973 courtesy of Swiss driver Herbert Muller and his team in two races at Hockenheim, Germany. The car fielded for the very last time on April 3rd 1977, finishing seventh in the hands of Swiss driver Heinrich Keller at the Paul Ricard circuit.
Source: Ferrari