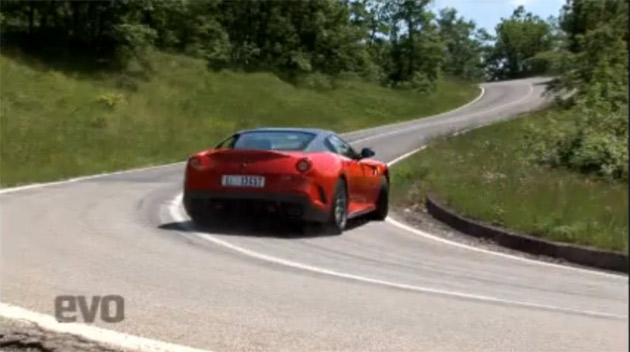 EVO reviews the Ferrari 599 GTO
Ah yes, the Ferrari 599 GTO – the sinister odd duck in the Ferrari stable. It goes without saying that any one of us would give any number of appendages for a shot at the flappy paddles in this particular Prancing Horse. You probably already know that the car gets its grunt from a 6.0-liter V12 distilled from the same mill that powers the mighty Enzo, though in the right hands, the 599 GTO is actually quicker than the discontinued Ferrari supercar. You're likely also aware that the chassis is a whopping 430 pounds lighter than the more pedestrian 599 GTB.
That's all fine and good, but we're betting our britches that you don't know what the car sounds like as it gets flung around the Italian countryside. For that, we turn to the ever-talented Chris Harris at EVO. The guy was lucky enough to get some seat time in the barely road-legal 599 GTO and took along a few cameras to share his experience. You can hop the jump for the full show, but if you're looking for your own personal moment of Zen, we suggest you skip ahead to around 2:30. You can thank us later. Thanks for the tip, Michael!