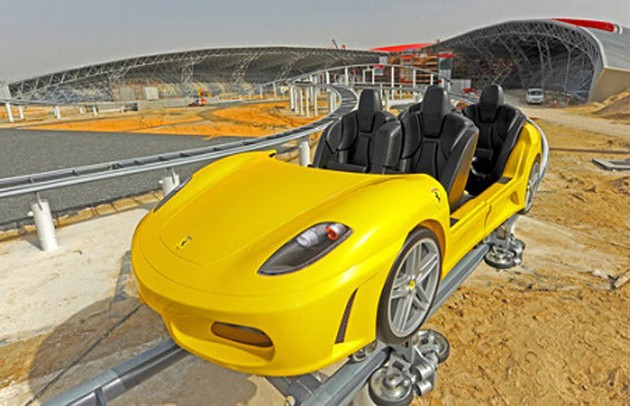 If you thought it took a long time to get to the top of the list and take delivery on a newly-assembled Ferrari supercar, that's nothing compared to the time that has gone in to building the brand's first theme park. Ferrari World Abu Dhabi has been under construction for two years now, and is finally set to open its doors to the public sometime later this year. And when it does, it will be not only the first theme park in the region, but the first of its kind in the world.
The major attractions at Ferrari World Abu Dhabi will comprise some 20 rides, including two roller-coasters: one based on an F1 car, running at speeds at upwards of 200 kilometers per hour (125 mph) and shooting straight up through the massive scarlet roof structure 62 meters into the air.
The second is what you see pictured here, the GT Racing Coaster. That attraction will run two four-seat cars (styled after the F430 Spider) on parallel tracks in a race to the finish line. This is the first image we've received of the coaster car, and we can't help but wonder why they don't go with a 458 Italia-inspired car at this point. Follow the jump for a video on the park's construction.