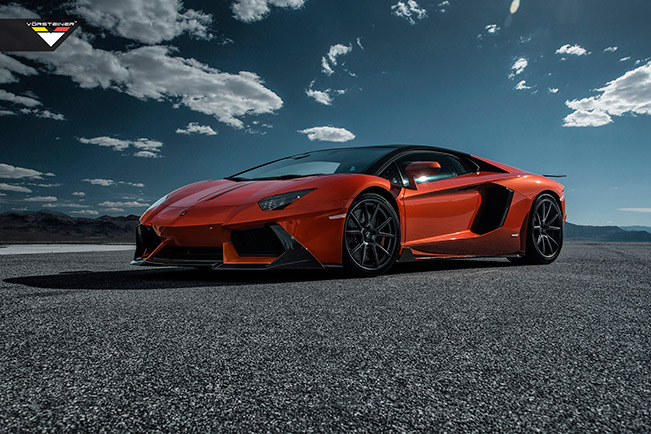 This Lamborghini Aventador features the Zaragoza front spoiler, Aventador-V side skirts and Aventador-V rear diffuser and Zaragoza aero wing all in our signature PrePreg carbon fiber.
Zaragoza active aero rear wing
Zaragoza active aero rear wing works harmoniously with the factory active aero dynamics in all modes. The two-piece ultra rigid carbon fiber autoclave wing element replaces OEM deck lid for complete bolt-on integration. The wing uprights are available in T-6061 aluminum or a full carbon fiber version that mounts from the top of the wing blade for increased stability.
Zaragoza Front Spoiler
The Zaragoza front spoiler was a particularly difficult feat of ingenuity, artistry, and craftsmanship as it is constructed to fit with the existing OE front bumper in a single piece of carbon fiber. To ensure this spoiler is incorporated and unified with the distinctive Aventador character, lines from the factory bumper are extended to flow with the lower, wider, and longer carbon spoiler. The Zaragoza front spoiler is approximately 25mm lower, 25mm wider, and 200mm longer compared to the factory front bumper. In addition, the vertical blades direct air away from the body to further decrease drag and turbulence. This significantly increases downforce and the stability of the front end at high speeds by directing the air away reducing frontal pressure. Paired with the Aventador-V active aero wing, side blades and diffuser, these components will surely set your vehicle apart from the pack.
Source: Vorsteiner