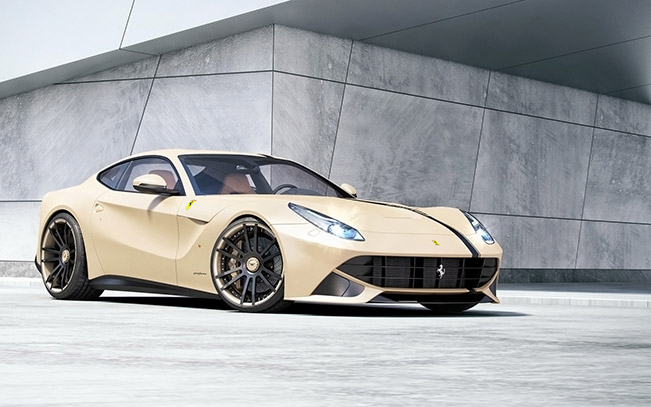 After prototype development of the new concave forged wheel F.I.W.E. was completed, Wheelsandmore presents those lightweight wheel models on three current models of the Ferrari collection.
Contestant number one:
Ferrari F12 with an opulent wheel and tire conversion on individualized F.I.W.E. forged wheels, on the front axle with 265/30/21 tires mounted on 9,5×21 inch rims and on the rear axle with maximum 335/25/22 Continental tires, mounted on 12,5×22 inches wide rims. The center locking optics and outside rims were color matched to the color of the car wrapping. By using a handmade exhaust system in combination with an adapted control electronics finally 785 hp and 730 nm were generated.
Contestant number 2:
Ferrari FF, also with maximum wheel and tire combination, with 9,5×21 inch F.I.W.E. rims and 255/30/21 inch tires on the steering axle and 12,0×22 inch forged wheels with 315/25/22 Pirelli tires on the rear axle. In this case all rims were adapted to customer options and combined with the overall concept tastefully. The less powerful four-wheel driven FF got a handcrafted exhaust system by Wheelsandmore with valve flaps and software optimization as well, resulting in a delicate power upgrade with additional 40 horsepower and 30nm additional torque.
Contestant number 3:
The Ferrari California is a bit more cautious about the overall performance because the V8 suction unit provides fewer opportunities for performance improvement through the use of software and exhaust systems to the German tuner opposed to the current California T. With finally 510 hp and 550 NM the only convertible model from the current Ferrari portfolio also knows to convince and wears also the ultralight forged Fiwe wheels sizing 9,0×21 and 12,5×21 inch with 245/30/21 and 345/25/21 Hankook S1 Evo tires.
Source: Wheelsandmore