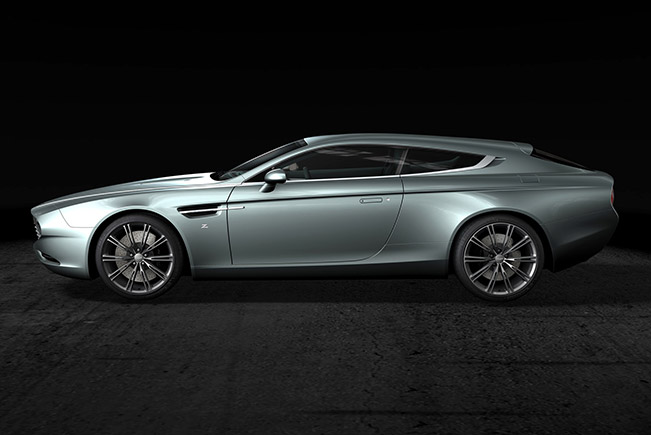 For Zagato, 2014 is a very important year . It commemorates 95 years of continuous activity, innovative design and three generations of Zagato family leadership. Following the world debut of the Lamborghini 5 – 95 Zagato at the Concorso d'Eleganza Villa d'Este , Zagato Atelier continues celebrating its 95th anniversary with t he grand debut of the Aston Martin Virage Shooting Brake Zagato at the Chantilly Art & Elegance . This mark's Zagato's second world p remiere in 2014.
This one – of – a – kind car was c ommissioned by a European client who desired an atelier – level , collectible mo dern car. This project signifies:
A bespoke Zagato design for an elite Aston Martin model with cutting – edge styling cues ;
It pays homage to Zagato's artistic, Italian coachbuilding tradition on the canvas of a shooting b rake body shape ;
The completion of t he Aston Martin – Zagato centennial trilogy, which starte d in 2013 with the highly – acclaimed DBS Coupé Zagato Centennial and DB9 Spider Zagato Centennial , to celebrate 100 years of Aston Martin Lagonda Ltd .
TOP – OF – CLASS DESIGN PROPOSAL
The Aston Martin Vira ge S hooting Brake Zagato represents a new, exclusive creation for Aston Martin ' s limited range of elite models. It represents a point break in traditional modern Aston design that has characterized all Zagato cars si nce the introd uction of the DB7 . A moder n interpretation with design cues of the Aston Martin V8 Vantage and Volante of the mid 80s , the new Shooting Brake Zagato creates surprise and fascination with a n ew shape while maintaining Zagato and Aston Martin 's core design values.
COMPLETING THE TRIL OGY
In 2013 , Zagato Atelier pai d tribute to Aston Martin's 100th Anniversary with the announcement of the DB9 Spider Zagato Cen tennial , conceived for the well – known American car collector Peter Read , and the DBS Coupe Zagato Centennial , delivered to a youn g Japanese collector of modern Zagato cars. Both cars were officially shown for the first time on the 21st of July at Kensington Gardens in London during the official celebration .
After Zagato's Coupé and S pider , the Shoot ing Brake marks the natural succe ssion among the most appreciated body styles, both in th e Italian and British tradition. As o riginally envisioned for Aston Martin's Centennial, Zagato's Trilogy arrives also in time with its own 95 th Anniversary:
Three different Aston Martin donor cars: DBS, DB9 and VIRAGE.
Three different models of body work s : Coupè, Spider and Shooting Brake .
Three clients from three different continents : Asia , America and Europe.
BRITISH ORIGIN, ITALIAN TRADITION
The Shooting Brake body has had different meanings throu ghout automotive history. S ince the 60s , however, it commonly refers to a luxury coupé, rigorously – styled with two doors and a functional boot space . This body was created to accommodate drivers' sport and leisure passions, such as hunting or golf, while p roviding the exciting driving experience of a fast and exclusive GT . Nearly all of the most prestigious English marques include a Shooting Brake model (or an "authorized" conversion) in their model line.
Aston Martin was a real pioneer in this field and h as remained a trendsetter. After some conversion s made during the 60s and the 70s by local coachbuilders and customizers on the DB5, DB6 and DBS basis , the co mpany decided to engage in the particular niche of Shooting Brake design on its own starting in th e early 90s . This was entrusted to the actual Aston Martin's Customer Service Division, which managed special requests.
Despite its British origin, the Sh ooting Brake shape has always been highly valued in Italy and, therefore, all of the top Italian coac hbuilders expressed their ability with this body style. For example: Fiat 130 Maremma by Pininfarina (1974), Ferrari 330 GTC 2+2 by Vignale (1965), Lamborghini Flying Star by Touring (1966), Aston Martin Jet 2 by Bertone (2004) , Mercedes 230 SLX Shooting B rake by Frua (19 64 ) , Chrysler Plainsman Two – door Station Wagon by Ghia (1956) and Zagato itself w ith the Mercedes – Benz S600 V12 Shooting Brake (1995).
Since its founding in 1919, Zagato has mainly focused on sport and race cars . As a leading coachbuilder since the beginning with 2 – door / 2 – seat coupé and spider variations , Andrea Zagato decided to re – interpret the sleek body of the Aston Martin Virage as a Shooting Brake under a "Milanese" design approach, in perfect accordan ce with the model's outstanding p erformance capability .
Source: Zagato