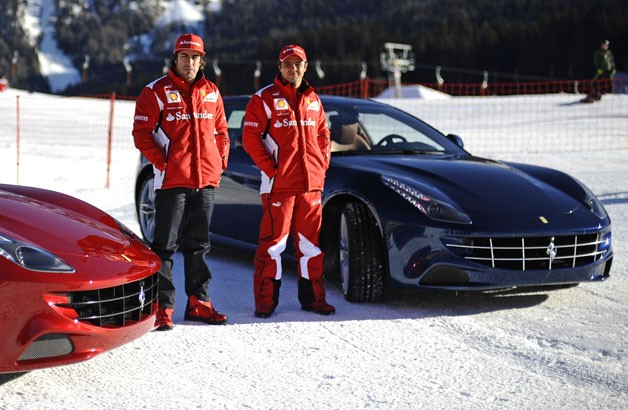 Ferrari factory drivers are used to racing in all sorts of conditions: under the baking sun, in the pouring rain, at night and at sunset. Competing in the snow has historically been beyond their usual purview, but then again, Ferrari never made an all-wheel-drive vehicle before. That's where the FF comes in.
The Ferrari Four, as you may recall, channels its 660 horsepower to all four wheels through an innovative new all-wheel drive system that ups the traction but ditches much of the weight penalty usually associated with these types of systems systems. Ferrari has taken the occasion of its annual Wrooom event – a pre-season retreat at Italy's Madonna di Campiglio ski resort – to demonstrate the FF's abilities by putting its star Formula One drivers Fernando Alonso and Felipe Massa behind the wheel for a downhill slalom.
So who won? Ferrari says it was a dead tie. But while we don't believe that bit any further than we could throw one of their sportscars (light as they may be), there ought to be plenty of time to see which driver is quicker when the F1 season kicks off in a few months. In the meantime, you can check out the video and press release after the jump, along with our high-resolution gallery above.