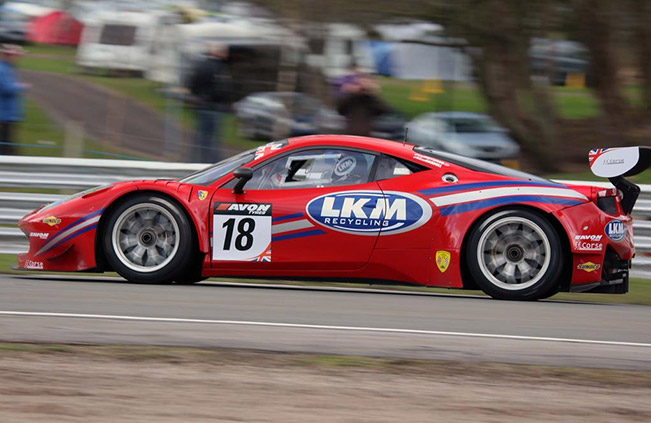 FF Corse's Ferrari 458 Italia got off to a superb start in the 2015 British GT Championship. In the capable hands of Gary Eastwood and Adam Carroll, car number 18 ably swept aside all competition in the first of the two one-hour races at Oulton Park, and came within a whisker of the podium in the second.
Race 1. The Ferrari, driven by Eastwood, was involved in an incredibly tight melee at the start, with five cars within six seconds of each other. The sparring match with Liam Griffin's Aston Martin was particularly fiery, while the other 458 Italia on the track, car number 21 fielded by Rosso Verde, brought up the rear of the group in the hands of Hector Lester and Benny Simonsen. An accident brought the Safety Car out just as the pit-lane opened 25 minutes into the race, giving Griffin and Eastwood the chance to dive in. The FF Corse mechanics pulled off a blinder to get the Ferrari, now driven by Adam Carroll, back on the track ahead of Roy Butcher's Aston Martin. As the race progressed, Carroll skilfully held onto his lead, assisted somewhat by the fracas behind him that culminated in the BMW of Joe Osborne getting past Butcher. In the final stages though, the Aston Martin regained second position but Carroll was never really worried by the rest of the field, also delivering the race fastest lap for both himself and Ferrari. Lester and Simonsen finished a very honourable fifth too.
Race 2. Neither of the Ferraris fared quite so well in the second outing. It proved a somewhat chaotic race and saw the Aston Martin of Andrew Howard and Johnny Adam winning ahead of the Ginetta of Steve Tandy and Mike Simpson, and the BMW of Marco Attard and Alexander Sims. FF Corse's number 18 had no real chance of repeating to its performance in race 1 as it had to serve a 15-second success penalty during its stop. Nonetheless, Adam Carroll started excellently, taking command of the race. However, once he pitted and swapped places with Eastwood, the success penalty impacted on the car's time. Eastwood, however, drove magnificently, clawing his way back up to fourth. Unfortunately, a few corners from the finish, he spun, dropping into sixth position, now also behind the Aston Martin of Griffin and Butcher and the BMW of Osborne and Lee Mowle. Lester and Simonsen's Rosso Verde 458 Italia had an even less brilliant time of it, eventually crossing the line 11th, two laps behind. Carroll and Eastwood left Oulton Park second in the standings behind Griffin and Butcher. The next round in the Championship takes place on the weekend of May 2 and 3 at Rockingham with a two-hour race scheduled.
Source: Ferrari