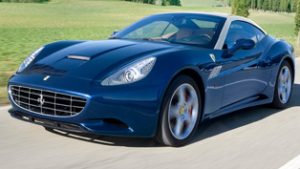 The new version of the Ferrari California made it official debut at the Geneva Motor Show. Its production has already commenced, with a reduction of weight of 30 kg and an increase in power output of 30 CV.
The Ferrari California's GDI V8 now delivers 490 hp with maximum torque of 505 Nm at 5,000 rpm, thanks to new exhaust manifolds and engine mapping. The torque curve has also been modified and is higher across the engine's generous rev range.
Cutting-edge aluminium fabrication techniques and construction technologies used by the Scaglietti Centre of Excellence in the manufacture of the Ferrari California's chassis, have led to an overall reduction of 30 kg in the car's weight without impinging in any way on its structural rigidity and performance.
These enhancements have improved the Ferrari's California's performance, reducing its 0-100 km/acceleration time to 3.8 seconds. This heightens its sporty feel without detracting from the mission and character of a car that has won universal acclaim for its performance and exceptional versatility resulting from its retractable hard top and 2+ seating.
To meet the needs of clients desiring a more dynamic, yet not overly extreme, driving experience, an optional Handling Speciale package has been developed which encompasses modifications to the suspension set-up that minimise body roll and make the car even more responsive to driver inputs.
The Handling Speciale package includes Magnetorheological dampers controlled by an even faster ECU (-50% response time) running patented Ferrari software. The package also features stiffer springs for more precise body control combined with a comfortable ride. Lastly, the California benefits from faster turn-in with smaller steering wheel angles thanks to a new steering box with a 10 per cent quicker steering ratio.
All these new features combine to underscore the California's sporty prowess without affecting its high-performance grand touring vocation – an achievement very much in line with Ferrari's DNA.
The technical features are matched by a new, even more extensive choice of colours developed by the Ferrari Styling Centre, including two-tone finishes, three-layer paint technology and modern re-interpretations of classic colour schemes which increase the exclusive personalisation possibilities even further. In addition, the Ferrari California benefits from the free seven-year standard maintenance programme.
The availability of the lighter and more powerful vehicle, along with the optional Handling Speciale package, varies according to each market with first deliveries scheduled for Europe.