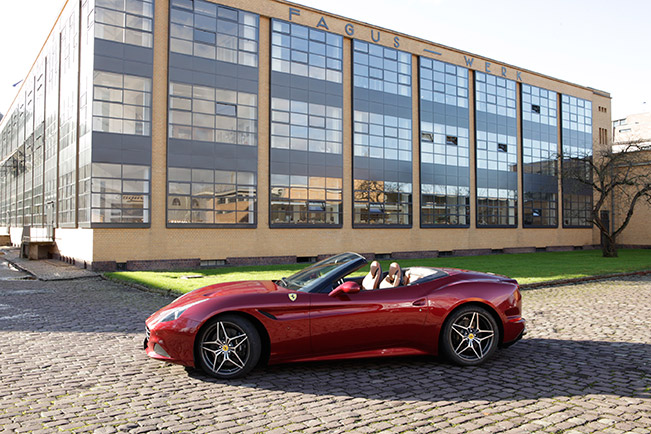 They say opposites attract.On a recent morning, a Ferrari California T travelled from Maranello to Germany to pay homage to the Fagus Factory, a Bauhaus landmark. Bauhaus and Ferrari? An unlikely match perhaps, but in fact the two go well together. With its glass façade and interplay of geometric shapes, the factory creates a captivating contrast to the shapely and powerful Ferrari California T.
A UNESCO World Heritage Site, the Fagus shoe factory was conceived by the father of Bauhaus Walter Gropius. When it was built in circa 1910 the factory broke with architectural convention, introducing a brand new functionalist industrial aesthetic. Its creation constituted a major milestone in 20th Century architecture and design.
Since its first incarnation in the 1950s, the Ferrari California has stood for the union of elegance, sportiness and versatility. The latest version of this car, the California T has a design featuring a distinct interplay of convex and concave surfaces. Its sinuous forms stand out compared to the stark linearity of the Bauhaus building. But aside from its beauty, the California T offers its driver an unforgettable experience, blistering performance combined with innovation and adaptability.
Source: Ferrari