Ferrari F12 Berlinetta DRIFT and Accelerations!
Facebook: on.fb.me Twitter: twitter.com I have filmed a red Ferrari F12 Berlinetta showing its power and fantastic sound at Fiorano with a series of full throttle accelerations and fly bys, it did even an awesome drift! Technical data - Ferrari F12 Berlinetta Engine - 6.2L V12 with 740hp / 690nm Performance - 0-100 km/h (0-60 mph) acceleration in 3.1s, top speed over 340km/h (211mph) Curb weight - 1525kg Price - 272.000€ Marchettino Facebook page: www.facebook.com Marchettino Twitter page: twitter.com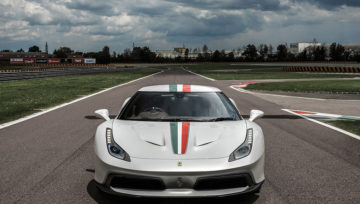 Ferrari 458 MM Speciale
Ferrari has unveiled its latest One-Off creation during the car's first shakedown on the Fiorano circuit in the hands of Ferrari's chief test driver Dario Benuzzi and the...

2017 Fiat 124 Spider...
Since the introduction of the Fiat 500 Abarth at the 2011 Los Angeles...